(Auszug aus der Pressemitteilung)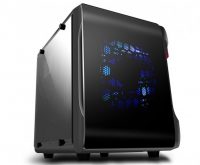 Maarheeze, The Netherlands, 02-12-2015 – Today Spire is pleased to introduce the all new PowerCube 715 PC enclosure. Built for the more powerful Micro ATX boards as well as the smaller Mini ITX boards which are both accommodated by this chassis. The PowerCube 715 provisions for a powerful home, office or multimedia system. The elegant and neat enclosure looks make it fit in any setting from home, business to public sector. The chassis is made from strong 0.45 SPCC steel with a cool ventilated top, front and side panel for fresh air intake and optimized component cooling. Supported large side panel ventilation and standard ATX 12cm fan power supply situated on the back bottom of the structure. Connectivity made easy through the frontal USB3.0 and HD Audio ports. Instant upgrading with 3x 3.5 inch internal drive bays and 2 extension slots. The PowerCube 715 chassis unit is 27x27x20.1cm and weighs only 2.2kg. The PowerCube 715 is a awesome choice for your next small system build.
Main Features:
Strong 0.45mm SPCC steel
Modern and neat design
Front connections USB3.0 & HD Audio
Micro ATX & Mini ITX compatible
Optimized internal space design
Standard ATX power supply unit 12cm cooling 420W included
20+4pin,12V 4pin,3SATA,1IDE+1Floppy
Backed by 2 year manufacturer warranty
Part number:
SPC715B-420W-E12-2
Codename: POWERCUBE 715
EAN/UPC: 6943051266943
MSRP:
Manufacturer suggested retail price:
€ 64,95 (Euro, ex VAT)
$ 69,95 (Dollar, ex VAT)
Availability:
The POWERCUBE 715 chassis is now available from Spire Corp in Shenzhen, China. European availability will roll out in January. About Spire: Spire, founded in 1998 in The Netherlands, is a global supplier of cooling solutions, power supplies, enclosures and ergonomic peripherals for the personal, gaming and networked systems. With its manufacturing plant in Shenzhen, China. Branch locations in Japan and Brazil. Offering a wide range of components and accessories for the IT and computing industry.