(Auszug aus der Pressemitteilung)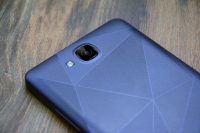 Diamond to ladies is not only dream and beauty, but also shinning the appealing intellectuality and wise. When the designer's special originality meets the glorious light of diamond, all achieve the fashion and nobility of OUKITEL C3.
Inserting the 3D lines and irregular patterns into the coated back cover of C3, OUKITEL is supplying a best gift for April. Noble, stylish, and up-to-date, C3 offers a good choice to send presents. Check the outlook video of OUKITEL C3 here:
Starting on April 26th, OUKITEL C3 stunning presale is ongoing worldwide. It is sold at $54.99 from now on. But we do suggest fans to save it for several days and wait until May 5th. From May 5th- May 7th, there is a big flash sale for OUKITEL C3. Many fans could get it at the price of $39.99. Snap up for the price $39.99 begins at 5:00pm GMT+8. The stock is limited, and price will change to $49.99 when the flash sale is over. However, if you buy the OUKITEL C3 at $49.99, a free silicon case will be sent together with the package. If you want more protection for your beloved C3, you can buy at $54.99, a free silicon case and a free tempered glass will be sent together with the package.
C3 features 5inch HD IPS display with 1280*720 resolution. Carrying the MT6580 Quad-core chip set with 1GB RAM and 8GB ROM, C3 can manage multi-tasks freely. It gets a 8MP rear camera and a 2000mAh battery. Now it is confirmed that there will be 5 colors for C3: black, white, clear blue, gold, dark blue. More details could be checked here.