(Auszug aus der Pressemitteilung)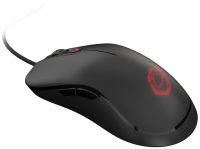 Ozone's Lab, 27 April 2016, the global gaming manufacturer today announced the launch of Neon 3K, its new advanced gaming mouse.
Powered with one of the most precise mouse sensor in the market, the Pixart 3320, Ozone's engineer team chose optical technology for this top performance mouse, to provide a more reliable experience for the users, making it perfect for intense gaming sessions.
The latest in the Ozone line of mice offers superior performance and perfect control speed.
Optical sensors technology provides a better reliability and preciseness experience for the users to help them give their best in each game. That's why Ozone's lab has designed an optical mouse, to bring back a technology that offers perfect control and speed. Neon 3k optical sensor, Pixart 3320, is capable to track up to true 3500 DPI, providing a next level gaming experience, accurate and fast on each movement. Includes On-The-Fly Sensitivity adjustment that can be easily customized using Ozone's technology drivers.
Ambidextrous Design. Neon 3k is suitable for both right or left handed users.
The symmetrical shape is designed for a wide range of users, no matter which grip style they need. Topped up with a specially coated surface with leading-edge anti-slip rubber material, Neon 3K buttons gives more control during liftoff or fast swipes when the action gets frenetic.
Never lose control of your game. Customizable buttons for an optimum performance.
Each button of Ozone's Neon 3K is fully customizable to enable set up different personal skillsets, macros and hotkeys. With 8 programmable buttons and 128kb built-in memory, it can keep up to five different profiles allowing to set the personal configurations that each game requires. The new Neon 3K also allows the user to personalize the LED lights with up to 6 different colors options to suit different personal styles and to create a unique gaming environment.
Disponible: 25 de Mayo de 2016.
Precio: 34,90€