(Auszug aus der Pressemitteilung)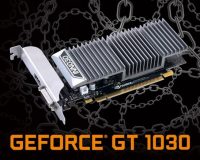 Hong Kong, May 17, 2017 – INNO3D™, a leading manufacturer of awesome high-end hardware components and computer utilities, presents its new family of GEFORCE® GT 1030 graphics cards. This family has been built in a half-height form factor, a carefully designed 100% silent heat sink and keeps the power consumption at ultra low levels while providing a performance boost of up to a massive 11x opposed to integrated graphics.
The new INNO3D™ GEFORCE® GT 1030 graphics card throws in its powerful graphics engine to give the user that extra 'umpffhh' that today's demanding applications need. The completely silent heat sink has been designed to optimize cooling performance allowing NVIDIA's Pascal™ architecture to come to its full potential and have graphics flourish like never before.
"Graphics drive our PCs more and more these days and need products that give them that high performance for both work, games and entertainment." said Lori Tsang, Marketing Manager at INNO3D. "Not only do we make products the best they can be, we have focused to improve the user's experience by making the GT 1030 family completely silent. Games, videos and music simply come out even better with non-audible hardware and improve that overall user experience which, in the end of the day, is our only concern."
Everyone who knows his ways around computer hardware understands that graphics drive most applications these days -from OS to creative design suites-. Adding a new GT 1030 is the best upgrade from a basic PC with integrated graphics providing up to 100% more performance. They will become available at premium resellers across the globe by next week (21).