(Auszug aus der Pressemitteilung)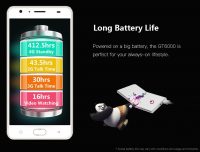 Long battery life and efficient Soc will make you enjoy a fun life with ultimate energy.
So, the manufacturer GRETEL aims for high value-for-money ratio when developing new products, which is why GT6000 is equipped with the MediaTek™ MT6737 System-on-a-Chip solution. The MT6737 consists of a 1.3 GHz Quad Core ARM A53 cluster and the Mali-T720 GPU. The SoC is tuned for high efficiency, but can easily meet the requirements of latest Apps and Games.
In addition to utilizing the efficient SoC, GRETEL installs a huge 6000mAh Lithium-ion polymer battery allowing the smartphone to last 17 days in standby while 4G network is on. It's perfect for your always-on lifestyle, which allows you to play your favorite show Prison Break from Season 5 to Season 6 online, all the 18 episodes, watch continuously over, without battery dying.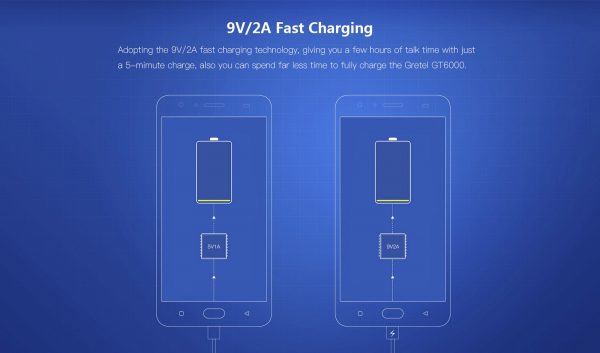 Except that, the GT6000 smartphone is powered on a fast high voltage charging – 9V/2A, which gives you a few hours of talk time with just a 5-minute charge. And you can fully charge the GT6000 within 2hour and 35min, here we find the testing video:
In this video, it shows off the 9V/2A charger are really good for this big battery smartphone. Along with the USB on-the-go, GT6000 will be your go-everywhere power bank and a backup mass storage to store multi-media files, anytime, anywhere.
The GRETEL GT6000 has been available online at a retail price of $109.99 since May. To celebrate the summer's coming, there will be a flash sale period you'll be able to get it with $99.99 on TOMTOP. Head over right now to TOMTOP to buy one for just $99.99: tomtop.com, coming with 2 free gifts: original silicon case and protective film. Flash sale starts from the 6th June (GMT+8), limited time! Already in stock for an instant shipment!