(Auszug aus der Pressemitteilung)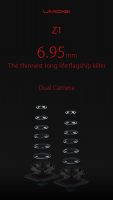 Another key feature is confirmed by UMIDIGI that their latest flagship UMIDIGI Z1 will feature a dual camera setup. When the dual camera setup is becoming more common seen on flagship phones, the frontline-reaching UMIDIGI will surely not miss this important feature on their new flagship.
We are yet to know the specific details of the dual camera, but with more light absorbed and more clarity, the dual camera on UMIDIGI Z1 can capture lively moments in the high definition. You can decide how much focus you want through the wide aperture range, and take photos with stylish professional-grade blurred background effect. You can expect image quality and rendering power that every photo fanatic deserves from a top-of-the-line phone.
Besides the dual camera, what we know so far about UMIDIGI Z1 includes the 6.95mm super thin body with a big battery, although the battery capacity has not been revealed yet. Plus, UMIDIGI Z1 will probably apply AMOLED for the screen display.
Learn more about UMIDIGI Z1 and enter for $9.99 subscription and giveaway here.