(Auszug aus der Pressemitteilung)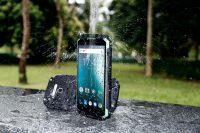 According to latest news, OUKITEL K10000 MAX is coming in September. It has pass through several cruel tests by water, slurry, lime water, cement water, water-based paint, etc. Those tests are all handled in library. K10000 MAX is an outdoor flagship to support long time standby and tough body in outdoor filed. This time, K10000 Max is stepping outside to accept the wash of nature.
When we are hiking outside, the environment is uncertain. We cannot imagine where we may drop our device. Your smartphone screen may drop on sand, may drop in water, also possibly hit on stones. K10000 Max was drifting and dropping in a gully where stones can be seen everywhere. Will K10000 MAX survive from this kind of tough environment? Check the video:
K10000 MAX is taking shower, diving into water pool, jumping and rolling among stones, and fly into water pool in distance. As the material is qualified enough, there is no damage to the device at all.
10000mAh battery for long time travel using, tri-proof for protection from water, dusts, and dropping, 5.5 inch FHD display for displaying great visual effect under the sun, octa-core for running smoothly, Samsung 16MP camera for recording your adventures while the super long & super bright LED light under the camera offers you enough light for camping out at night. Regarding all the factors that you need for outdoor activities, K10000 MAX is definitely an outdoor flagship for the year.
K10000 MAX presale is starting at early September, it continues to accept subscription on official website, all subscribers will get $50 coupon code, while specified subscribers like will get the chance to buy K10000 MAX at half price.