(Auszug aus der Pressemitteilung)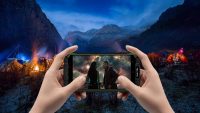 OUKITEL K10000 MAX is reaching its releasing date, and software has been confirmed, the battery consumption curve line is decided too. As its battery supplier is different from K10000 Pro, its battery life and battery consumption rate is different too.
OUKITEL Lab tested the battery consumption by playing the film Guardians of the Galaxy II. It is set at brightest screen and maximum volume. After 30 minutes video playing, K10000 MAX still shows 100%, but actually it already consumed a little power, just not reach 1% yet. The video is totally 2 hours and 15 minutes, after playing the whole video, it just consumed 7% and left 93 % power.
It act like this because it drops quite slow at the first 5-10% power, it will turn to normal in middle. But due to its 10000mAh massive battery, even though it is used at the most power consumption way-brightest screen on 5.5 inch FHD display and largest volume in playing video, it will still support more than 20 hours continuous FHD video playing. If you set different screen brightness and volume, it will support longer as screen is the most power consumption item.
A combination of massive battery and outdoor tri-proof protection, K10000 MAX is aimed at outdoor flagship. Presale will start around middle September, it acts perfect well in other aspects too. To know more about it, check it here, authorized re-seller stores will be all listed on OUKITEL official site.