(Auszug aus der Pressemitteilung)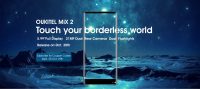 OUKITEL Mix 2 was just announced last week and looks quite similar like Xiaomi MIX 2. At first glance, they are nearly twin brothers, but the actual inside are different. OUKITEL just confirmed about the full specs and retail price of OUKITEL Mix 2. And OUKITEL is accepting subscription for Mix 2 and also offers chance to users to experience it for free.
To check out its detailed design, OUKITEL Lab compares it to Xiaomi MIX 2 in details.
From the video, both Xiaomi Mix 2 and OUKITEL Mix 2 gets excellent glossy and mellow design, 5.99 inch FHD+ display, aluminum alloy frame. But for the material, Xiaomi MIX 2 features Ceramic glossy back, while OUKITEL gets glass material glossy back. For the camera, Xiaomi MIX 2 gets 5MP front camera and 12MP rear camera, while OUKITEL Mix 2 will carry 13MP front camera, and dual-lens 21MP+2MP rear camera. Xiaomi MIX 2 designs a Type-C USB port, while OUKITEL Mix 2 will get 5-pin USB port.
See detailed specs and price compares in the following chart: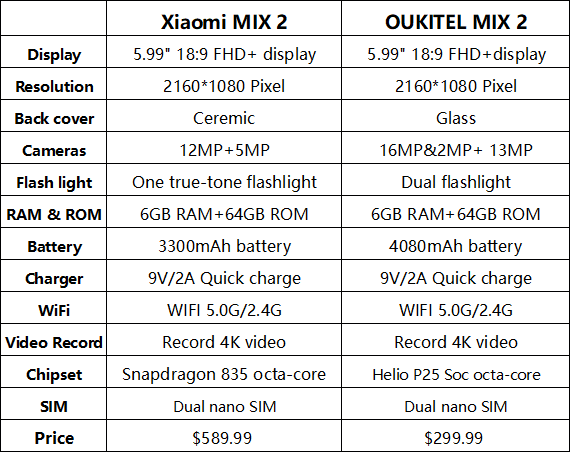 According to the above chart, OUKITEL MIX 2 and Xiaomi Mix 2 gets many things same with each other like same 5.99 inch FHD+ display, same 6GB RAM and 64GB ROM, but different camera resolutions, battery capacity, chipset and different price. Xiaomi Mix 2 is selling at $589.99 while OUKITEL Mix 2 retail price will be $299.99. However, this is not the cheapest price. By subscription OUKITEL MIX 2 on OUKITEL Official site, you will get $30 or $50 or even higher coupon codes. OUKITEL also offers the chance to 5 users to experience the MIX 2 for free. OUKITEL Mix 2 is coming by end of October, more detailed information will be released on OUKITEL official site.