(Auszug aus der Pressemitteilung)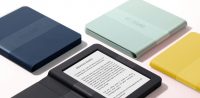 Paris, October 11, 2017 – After the recent success of NOLIM, the e-reader that redefines the codes of a whole category, Bookeen, French champion of digital readers, leader on the Brazilian market with Saraiva and in Scandinavia with Adlibris and Elisa, continues to expand internationally with the launch of a new disruptive reader: SAGA.
SAGA: the e-reader that changes the game of digital reading
The new e-reader SAGA developed by Bookeen takes the reader on a whole new reading experience and adventure. It took 14 months of R&D for Bookeen to develop not just a digital reader, but a new kind of book, where the size format, style, ergonomics, and tactile feel combine for the user's genuine reading pleasure. The new e-reader is on display at the Frankfurt Book Fair from October 11 to 15.
For Michael Dahan, founder of Bookeen: "Comparing to the affluence of our competitors, we prove, once more, our ability to disrupt and innovate. The Saga e-reader does not resemble to any other and it integrates unique characteristics for an extremely simple use".
The Saga digital reader integrates an E-ink 6'' Carta 1024×758 screen that is comfortable for the eyes, and 4 buttons: Next page, Last page, Menu, and FrontLight (for night-reading). It also has an accelerometer to automatically switch between left and right-handed users, and its smart cover directly integrated in an all-in-one elegant in silicone, turns the device on and off automatically. Last but not least, a Wifi connection allows the user to download books anytime.
Availability
SAGA, the last e-reader developed by Bookeen, will be available worldwide starting from November 2017. It is already available in pre-order in Switzerland (Payot), in Finland (Elisa), in Germany (Zadig) and Sweden (Adlibris).
The SAGA range declines in 4 colors: black, green, yellow and blue.
In France and Spain, SAGA is called NOLIM and is available in the dedicated spaces in Carrefour. The NOLIM reader, developed in partnership with Carrefour and design agency 5×5, was awarded in October 2017 with the Janus Price of Design by the French Institute of Design.
Bookeen at the Frankfurt Book Fair: Tite-Live / ePagine Halle 6.2 – Booth D82 and the reading area in Zadig Forum Level 1 at the France booth