(Auszug aus der Pressemitteilung)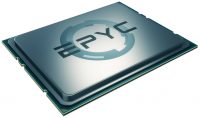 BEIJING — Feb. 6, 2018 — AMD (NASDAQ: AMD) today announced that its EPYC™ 7000 series processors are powering three of the newest Dell EMC (NYSE: DVMT) PowerEdge platforms. PowerEdge R6415, R7415, and R7425 are highly scalable, single- and dual-socket servers designed to address high-performance workloads, including virtualized storage area networks (VSAN), hybrid-cloud applications, dense virtualization, and big data analytics. The no-compromise, single-socket capabilities of AMD EPYC help the new Dell EMC PowerEdge platforms deliver up to 20 percent lower total cost of ownership in a single-socket, four-node VSAN-ready configuration.
The new Dell EMC PowerEdge servers take full advantage of the AMD EPYC 7000-series' ability to deliver both single- and dual-socket servers with design features ranging from 32 to 64 cores, up to 4TB of memory capacity, and 12 to 24x direct NVMe drives optimized for database and analytics workloads. EPYC also supports high bandwidth and dense GPU/FPGA capabilities in these Dell EMC PowerEdge platforms for HPC applications.
"We are proudly showcasing our AMD EPYC processors in the newest wave of Dell EMC 14G PowerEdge servers. AMD EPYC processors offer tremendous performance and reliability, along with innovative configuration, I/O, and security features that PowerEdge customers can enjoy in these new servers," said Forrest Norrod, senior vice president and general manager, Database and Embedded Solutions Business Group, AMD. "The ground-breaking capabilities of EPYC in single-socket configurations allow Dell EMC to create single-socket servers that can handle the demands of most customers' workloads, while offering real Total Cost of Ownership advantages. The Dell EMC portfolio of AMD EPYC systems excel in a wide range of workloads, including dense virtualization, hybrid-cloud applications, software-defined storage, CAD/CAM, and other memory and I/O dependent applications."
In addition to enabling an incredibly feature-rich dual socket platform with the PowerEdge R7425, EPYC provides unique and competitive options in a single-socket package, expanding the reach of single-socket servers into new segments. The single-socket configurations in the PowerEdge R6415 and R7415 offer a 32-core count optimized for high performance and multithreaded architecture workloads. In addition, the impressively low total cost of ownership offered on all three platforms provides outstanding high-speed I/O performance on up to 128 lanes of PCIe and a memory bandwidth up to 342 GB/s.
"With AMD's EPYC processor integrated into the new Dell EMC PowerEdge platforms, we can deliver the scalability and lower total cost of ownership needed to meet the demands of new emerging workloads," said Ravi Pendekanti, senior vice president, product management and marketing, Server and Infrastructure Systems at Dell EMC. "Customers are constantly looking for ways to drive growth and leverage new models of computing. AMD's single-socket platform is a great example of Dell PowerEdge servers moving the industry forward to solve real customer problems. Together, we're enabling customers to advance their datacenter transformation by adding capacity for higher IO and memory-intensive applications for highly configurable, single- and dual-socket designs."
Availability
The Dell EMC PowerEdge R6415, R7415, and R7425 servers with AMD EPYC are available worldwide starting today.