(Auszug aus der Pressemitteilung)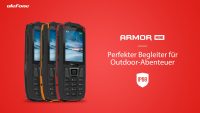 Most of us love our smartphones, but not everyone needs one. For some people, a feature phone that makes/takes phone calls, and is easy to text on is more than enough. It makes sense that a number of great feature phones that helps save money on mobile data and keep complexity down are still widely available.
Previously we've reported that phone maker Ulefone will be releasing a rugged feature device named Ulefone Armor mini. As the latest addition to the rugged Armor series, the Armor Mini keeps with same rugged qualities like its predecessors. With IP68 dust/waterproof protection grade, the handset can be submerged in water of up to 1.5 meters for up to 30 minutes. Meanwhile, through mature bi-injection molding process, the housing made of solid polycarbonate, glass fiber and flexible TPU can withstand falls, shocks and bumps that can randomly happen in the outdoors. You can trust the Armor Mini to keep working when you take it out in the dirt,mud, water or in any other rough or harsh environments.
Aside from that,The Ravine 2 features some typical feature phone specs including a MediaTek MT6261D processor, a 0.3MP rear camera, a 2.4-inch QVGA display, headset-free FM radio, class-K amplifier, loud box speaker and dual SIM slots. Fueled by a 2500mAh battery, the phone offers up to 21 days on standby time and up to 12 hours of talk time. Meanwhile, with reverse charge supported, it can serve as a power bank to charge up other devices when needed. There's a flashlight button on the side, press once to turn on the flashlight, and twice for signaling SOS with the flashing flashlight.
According to Ulefone, the Armor Mini would be officially launched very soon. But currently you can grab one for merely $39.99 from Ulefone's AliExpress Store.