(Auszug aus der Pressemitteilung)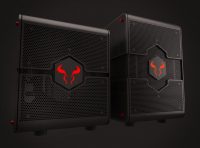 Computex 2018, Taipei — June 5, 2018 — California-based RIOTORO® today unveiled Project Morpheus, RIOTORO's concept PC case, the first chassis that converts to and from a mini-tower to mid-tower. The company also unveiled the Builder Edition 1200W 80 PLUS Gold modular power supply, Quiet Storm RGB 120mm fan kit, and the budget-friendly CR380 mid-tower chassis. RIOTORO is showcasing the new products at Computex Taipei 2018.
Project Morpheus – The World's First Convertible PC Chassis
For over 35 years, PC performance has evolved dramatically enabling gamers to pack even more horsepower into their monstrous gaming rigs or into even more compact console killers. Other aspects of the PC have failed to keep pace, especially in regards to how PCs are built, designed, and constructed. Not satisfied with the status quo, RIOTORO is committed to evolving PC design to make PCs more unique, customizable, and easier to build. Project Morpheus Concept 1, the first of many RIOTORO design explorations, was created to break the traditional rigid format of PC cases, enabling gamers to evolve their PC along with their changing needs.
Shapeshifting Performance – Two Sizes, One Case
Project Morpheus, the first convertible PC chassis, ends the compromise of mini versus mid-tower without style and performance. Want to preserve vertical real estate? Project Morpheus can be built as short micro-ATX, and when you want to add a second GPU, audio card, or more storage, Morpheus can easily shape-shift into a full-size ATX mid-tower.
Vent Your Aggression While Staying Cool
Desktop gaming PCs run hot, especially when aggressively overclocked. Unfortunately, cooling a hot PC often means loud, especially in smaller PCs. Morpheus is engineered with a streamlined airflow and with nearly the entire exterior perforated mesh to keep your PC's components running quieter and cooler even in extreme, overclocked gaming configurations. Plenty of easy-to-install cooling options are available thanks to a removal front mount and support for up to seven 120mm fans or two 240mm radiators.
Expandable, Tool-less, Modern
To simplify building, upgrading, and maintaining your system, every aspect of Morpheus has been carefully architected for easy access. The entire chassis requires no tools to build, which combined with the strategically placed cable routing channels, drive trays, and cooling bracket, make building Morpheus a snap. We didn't forget connectivity: USB 3.0 and USB-C provide high-speed connections for the modern storage and mobile devices.
Convertible mid-tower and mini-tower
Supports ATX, microATX and mini-ITX motherboards
High-density perforated mesh on all sides for superior cooling
Dual compartments with streamlined airflow to CPU and GPU
Tool-less assembly with optimized cable routes and mount points
2x 3.5" HDD plus 2x 2.5" SSD
Cooling:

Front: 2x 120mm fans or 240mm radiator
Top: 2x 120mm fans or 240mm radiator
Rear: 120mm fan

USB-C and USB 3.0 ports
Dimensions (HxWxD): 440 x 276 x 465 mm / 17.3 x 10.8 x 18.3 inches
CR380 Mid-Tower Case
The budget-friendly RIOTORO CR380 mid-tower blends elegance and incredible cooling efficiency with ample working room for full-length GPUs and PSUs. A front 120mm fan provides plenty of cooling for most system configurations, and additional fan mount points provide additional cooling options, including support for 120mm and 240mm radiators. For convenience, top-mounted control panel provides easy access to USB 3.0 ports and headphone and microphone jacks. And strategically placed routing holes keep cables neat and tidy.
Mid-tower
Motherboard Support: ATX, microATX, and mini-ITX
Supports GPUs lengths of 300mm and PSU length up to 280mm
Highly efficiency cooling with a 120mm intake fan
Cooling fan/radiator mounts

Front: 2x 120mm fans (1 included), 1x 140mm, or 1x 240mm/140mm
Top: 2x 120mm or 1x 240mm
Rear: 120mm fan

Side window
Dimensions (HxWxD): 472 x 207 x 454 mm / 18.6 x 8.1 x 17.9 inches
2-year warranty
Available: Q3 2018
Suggested retail price: $39.99 USD
Builder Edition 1200 Watt Power Supply
Delivering 1200 watts of stable power with 80 PLUS Gold efficiency, the Builder Edition 1200W power supply is ideal for cryptocurrency mining, data servers, or extreme gaming rigs. The PSU is fully modular with eight GPU PCI-E and twelve SATA power connections, and features a long-life 135mm fan and 100% Japanese capacitors for years of solid, stable, quiet operation. Like all RIOTORO PSUs, the Builder Edition 1200W features full voltage, current, power, and short-circuit protections for improved safety.
1200 watts of power with 8 PCI-E GPU connections
80 PLUS Gold certified 90% efficiency
Japanese solid-state capacitors
Exclusive 12V CPU rail for rock-solid stability
Fully-modular with flat cables for reduced clutter, easier installation, and improved airflow
135mm dual ball bearing fan with textured blades for long-term reliability and increased airflow
5-year warranty
Available immediately
Suggested retail price: $219.99 USD
RIOTORO Quiet Storm RGB Fans – Quiet Performance, with Addressable LEDs
Quiet Storm RGB 120m fans deliver whisper-quiet, high-airflow performance that blows away the competition at an unheard-of price point. The fans feature ten individually addressable RGB LEDs for multiple simultaneous color effects, and are compatible with WS2812B compatible RGB controllers and ASUS Aura, Gigabyte Fusion, and MSI Mystic motherboards with 5-volt addressable RGB connectors. The fans are available individually or in a kit with three fans and an RGB controller.
Quiet Storm RGB 120mm Fan (single)
Fan Specifications

Fan connection: 4-pin PWM
RGB connection: 4-pin 5-volt RGB (WS2812B compatible)
Speed: 1000-1500 RPM
Air Pressure: 0.54 to 1.7mm-H2O
Airflow: 40.1 to 54.52 CFM
Noise level: 20.1 to 27.6 dBA
LEDs: 10 RGB

Includes 2 sets of rubber anti-vibration bumpers – gray and black
2-year warranty
Suggested retail price: $19.99 USD
Quiet Storm RGB 120mm Fan Kit
3x Quiet Storm RGB fans (see fan specifications)
RGB controller

Buttons for Color, Lighting Mode, and Brightness
Colors: Red, Orange, Yellow, Green, Cyan, Light Blue, Blue, Purple, Green, White
Lighting modes: Flash, Spiral, Blink, Rainbow, Wheel, Off

Includes 3x Quiet Storm 120mm RGB fans, RGB controller, 6-fan hub
2-year warranty
Suggested retail price: $59.99 USD