(Auszug aus der Pressemitteilung)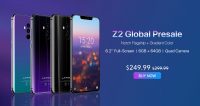 Since the debut of UMIDIGI Z2 series, the UMIDIGI Z2 series is quickly stand out of a bunch of new unveiled phones. It's not just because of UMIDIGI Z2 Pro equips with the fresh AI-driven Helio P60 chipset, but as well as for its design and new gradient colors!
When talking about colors, most mobile manufacturers ceaselessly repeated these colors: Black, Silver, Red, Blue and so on. No doubt that many of us get tired of it. But now UMIDIGI once again is leading the fashion and comes up with two innovative gradient colors — The Twilight and Twilight Black.
The source of inspiration
Nature is the greatest inspiration to see beauty in the world. Humans have longed to create since the beginning of their existence, and have always drawn inspiration from nature in some way, shape, or form.
While we're looking up at the sky, we see the beauty of Northen Lights, and our inspiration exactly comes from it. We decided to choose cyan and purple for creating the gorgeous Twilight. And It proved that it works wonders and looks amazing!
And every day we can see the nightfall, we are shocked by this piece of the scene, here comes the Twilight Black, which now is perpetually shined on the back of UMIDIGI's flagship phone. We made wonders again by applying the most beautiful parts of the phenomenon.
"We are not a creator, but we are trying to combine things together and it is proven that it works wonders", one of UMIDIGI's designer told us.
Beauty comes from the countless attempt
It is always easier said than done. Although we already decide to adopt which colors for our flagship phone, who knows the difficulties of our engineers faced when they want to put theory into practice.
They had to make sure that the color spectrum will reflect the aurora's and nightfall's magnificence as it's shrunk to the size of a handheld device. Besides, they have to go through countless body prototypes for the best results so, in the end, they settled on a non-conductive vacuum metalizing (NCVM) coating for displaying the best aurora and nightfall effect. And here are a bunch of prototypes we created for finding the most beautiful "Twilight" and "Twilight Black".
Now UMIDIGI Z2 is available at Gearbest from $249.99 with $50 discount. You can even choose from Black, Twilight and Twilight Black at the same price(conscientious company). Also, the UMIDIGI Z2 in the next week on Monday will be available at AliExpress at UMIDIGI official store with a favorable price. You can check out full specifications and buy UMIDIGI Z2 right here.
But which color would you prefer, the fashionable and stylish Twilight or the modest and gentle Twilight Black? Tell us your opinion under the comment.