(Auszug aus der Pressemitteilung)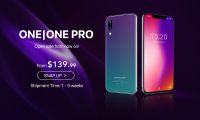 Hello, beloved UMIDIGI Fans!
We are so excited to tell you that the UMIDIGI One and One Pro now are available on AliExpress UMIDIGI Official Store, snap-up price as low as $139.99. The big open sale large event exclusively starts on AliExpress on our own store, with some coupons you can easily get the UMIDIGI One and One Pro at final prices $139.99 and $169.99 respectively. The global large open sale event lasts only one week from 6th Aug to 12th Aug, shipment will start 1 – 3 weeks.
Today is a special day for UMIDIGI and for you, our UMIDIGI Fans. We hope you have fun and enjoy the experience when purchasing our UMIDIGI products. If you have any question, you can directly contact us via our social media.
Unbox the UMIDIGI One/One Pro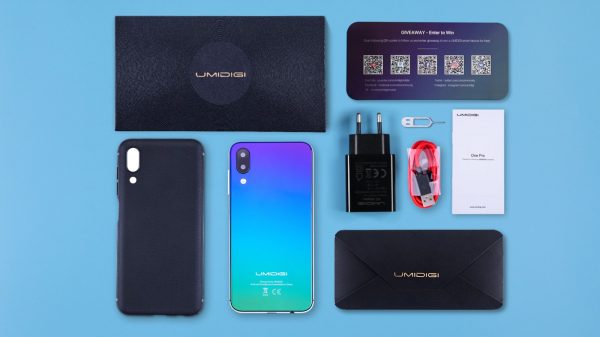 Today we show you our unboxing video of our latest achievement, the UMIDIGI One/One Pro!
As you know, we put a lot of efforts on the making of this great piece of technology, and not a single aspect was overlooked: today, thanks also to the help of the video, we wanted to show you what's behind our product.
The UMIDIGI One and One Pro follow minimalist principle from the design to the package. The power button, which equips a side fingerprint scanner and the simple but very useful package all tell us that. In UMIDIGI, we put user experience above all matters, while our aesthetic is unfolded in details of usability and crafting.
What's in the box?
1x Stunning Functional Phone
1x Screen Protector (pre-applied)
1x High-Quality Phone Case
1x Type-C Cable
1x Power Adapter
1x SIM Tray Ejector
1x Quick Start Guide
10 Lucky Winners Were Selected Randomly
We are so excited to draw the 10 winners of the UMIDIGI One giveaway! This time we get more than 730 thousand impressions and it becomes a new record for our giveaway activity. Sincerely great thank all participators who joined in our activity. All winners will get a $169.99 prize, the UMIDIGI One, and should help test the device in his own country in order to improve the user experience. Click here to see the live broadcast or check the picture below to see the winner list.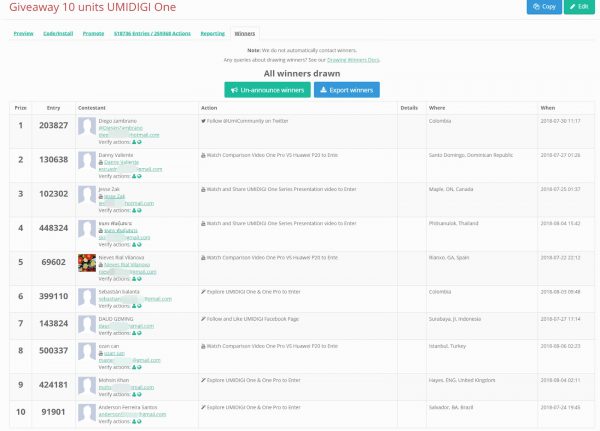 If you can't find yourself in this winner list, we hope you better luck next time and be more active next time, since the more entries you get, you have a bigger chance to win. And don't worry, now you have a chance to win a $400 prize, the UMIDIGI Z2 Pro. Check the UMIDIGI Z2 Pro giveaway and start to win one of five luxury ceramic flagship phones right here.
Unboxing video: