(Auszug aus der Pressemitteilung)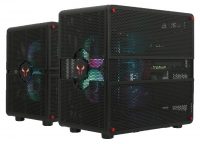 San Jose, California — January 3, 2019 — California-based RIOTORO® today announced the availability of Morpheus, the first convertible, resizable PC case. Winner of Tom's Hardware Best of Computex 2018 award for best chassis and one of Hardware Canucks' Top Cases of 2018, Morpheus is now available for order at www.riotoro.com and other retailers worldwide. Suggested retail pricing is $189.99 USD, $189.99 EU, £169.99 UK, and 830.00zł Poland.
Morpheus – The World's First Convertible PC Chassis
Transforming the PC
For over 35 years, PC performance has evolved dramatically enabling gamers to pack even more horsepower into their monstrous gaming rigs or into even more compact console killers. Other aspects of the PC have failed to keep pace, especially in regard to how PCs are built, designed, and constructed. Not satisfied with the status quo, RIOTORO is committed to evolving PC design to make PCs more unique, customizable, and easier to build. Morpheus, the first of many RIOTORO design explorations, was created to break the traditional rigid format of PC cases, enabling gamers to evolve their PC along with their changing needs.
Shapeshifting Performance – Two Sizes, One Case
Morpheus, the first convertible PC chassis, ends the compromise of mini versus mid-tower without style and performance. Want to preserve vertical real estate? Morpheus can be built as short mini-tower case, and when you want to add additional GPUs, and audio card, or more storage, Morpheus can easily shape-shift into a full-size ATX mid-tower.
Vent Your Aggression While Staying Cool
Gaming PCs can run hot, especially when aggressively overclocked. Unfortunately, cooling a hot PC often means loud, especially in smaller PCs. Morpheus is engineered with a streamlined airflow and with nearly the entire exterior perforated mesh to keep your PC's components running quieter and cooler even in extreme, overclocked gaming configurations. The case has plenty of easy-to-install cooling options with support for 200mm, 140mm, 120mm fans or 240mm radiators.
Easily Expandable with Dual USB Type C
To simplify building, upgrading, and maintaining your system, every aspect of Morpheus has been carefully architected for easy access. The chassis features strategically placed cable routing channels, drive trays, and a cooling bracket which make building Morpheus a snap. We didn't forget connectivity: two USB 3.0 and two USB-C ports provide high-speed connections for the modern storage and mobile devices.
Morpheus assembly video:
Win a Morpheus PC from Kaspersky and RIOTORO
Purchasers of Kaspersky Anti-Virus, Kaspersky Internet Security, or Kaspersky Total Security can enter for a chance to win a complete RIOTORO Morpheus gaming PC!