(Auszug aus der Pressemitteilung)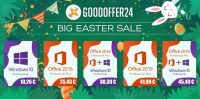 It's that time of the year again – and the big Easter Hunt has already begun! So just in case you need some extra savings, it's definitely a great time to pick up a few bargains!
Due to modern demands, it's impossible for most of us to think of a world without Computers. Getting the most recent Productivity Tools or Operating System is an added value that will certainly help us on a daily basis! That said, the purchase of Windows 10 and Office licenses has been growing steadily – especially with the Online Shopping boom.
So where can we find them at affordable prices? Let's introduce you to GoodOffer24.com, our Number One choice for genuine Microsoft licenses – that now brings us the most Excellent Easter Promotion ever!
GoodOffer24 have released their most Excellent Easter Promotion – with up to 20% EXTRA discount on all Software Products! Just use the following Discount Code "JGO24EASTER" and grab Microsoft's latest and greatest for a very affordable price!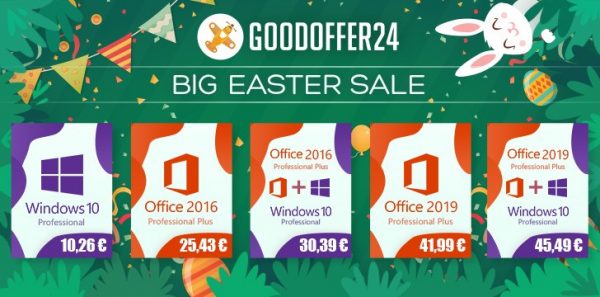 Let's take a look at their most Excellent Easter Promotion at Goodoffer24:
1. 20% off with the Discount Coupon JGO24EASTER – with Microsoft's most Popular Software on highlight. Here are some of their best deals right now:
2. 30% off with the discount coupon JGO24OFFICE2019 – With Microsoft Office 2019.
Why GoodOffer24?
GoodOffer24.com is a fast-growing Online platform selling Software licenses, Video Game keys and Game Cards – all at great prices! With over ten years of experience and extremely positive feedback from users, GoodOffer24 continues to shine with the most competitive prices on the market!
Easy to Buy, Easy to Pay!
Shopping at GoodOffer24.com is as easy as it gets! Soon after ordering, you receive an email with your Product keys – without having to wait days for a reply! On top of that, you can choose from different Payment Methods, such as PayPal (recommended) or Credit Card. Last but not least, if you have any kind of questions, their Customer Support is there to give you fast and detailed assistance.
So what are you waiting for? Take a quick peek at their Website! Surely you'll find something that interests you – at a top price!
Learn more at: www.GoodOffer24.com
Customer Service E-mail: info@goodoffer24.com
Facebook Page: www.facebook.com/GoodOffer24