(Auszug aus der Pressemitteilung)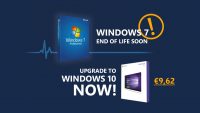 WARNING! After January 14, 2020, Microsoft will no longer provide security updates or any support for PCs running Windows 7. If you still own one, now is the right time to upgrade to Windows 10 – and start preparing your systems for the Future!
Upgrade your PC to the best and most secure Windows ever!
Although Windows 7 is ten years old, recent reports from Netmarketshare suggest that about 32% of people still use it. But let us show you a bit more: Over 900 million active devices around the world are now running Windows 10, representing a market share of nearly 50%, with 96% of all Enterprise Customers already using it.
For those still running Windows 7, this is a clear sign that you should consider an upgrade. However, if you own a Company or Business, upgrading all your Computers at once can be expensive, and the payback period a bit long – which also means that the sooner you start upgrading, the better it will be for you in the long run! So today we are going to show you a different and more affordable option with GoodOffer24.
What Is GoodOffer24 – and Why Choose It?
We would like to introduce you to GoodOffer24, an Online selling platform that immediately stands out for its highly competitive prices in well-known Software, such as Windows 10, Office 2016 or Office 2019, and more.
The main concept of GoodOffer24 is to rebuild global trade, by providing a secure and reliable solution for EVERYONE – from the most common buyer to hardcore bulk purchasing. With a vast experience in the market (over ten years now), GoodOffer24 has only been receiving great reviews from Customers – as you can easily see from the Excellent Feedback and Score on its Trustpilot page!
The best thing we can say about the store is that everything works as smoothly as expected, from ordering to activation. Both on the professional and personal level, we can't point to the slightest flaw. In addition, GoodOffer24 ensures all licenses are valid and, should any issue arise, they resolve it without any loss to the Customer.
Secure & Fast Payment
Shopping at GoodOffer24 can't get much easier! First, simply choose your desired product and add it to your Shopping Cart. After that, apply any of the Discount Codes you may have and Proceed to Checkout – where you need to provide an available e-mail address for delivery, and Register a new account or just Checkout as Guest.
After applying your Discounts and confirming all your Billing Information, you need to select the Payment Method you prefer. The available Payment Methods are Credit Card (VISA/MasterCard) and PayPal – PayPal being the most recommended for a more secure Online transaction.
Soon after ordering, you receive an email with your Product keys – without having to wait for days! Besides, if you need any support or simply have a question, their Customer Service will be there for you 24/7, all year round!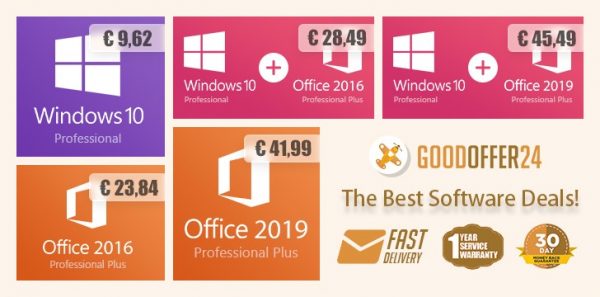 Deals & Discounts – Windows 10 and more!
In view of Windows 7's end of life, we have prepared a Special Selection just for you, with Microsoft Windows 10 products in highlight! Grab the opportunity to upgrade your Computer for a reasonable price and enjoy your extra 25% discount with the following coupon "JGM25". Check out the prices after the reduction:
Microsoft Windows 10 + Office 2019 Bundles – up to 30% OFF!
If you happen to need a Microsoft Office suite to go with your new Windows 10, GoodOffer24 has some great Bundles on offer! As always, you can get an additional 30% discount on the already low prices. Simply use the following coupon "JGO24OFFICE2019" when ordering and watch the price drop a bit more: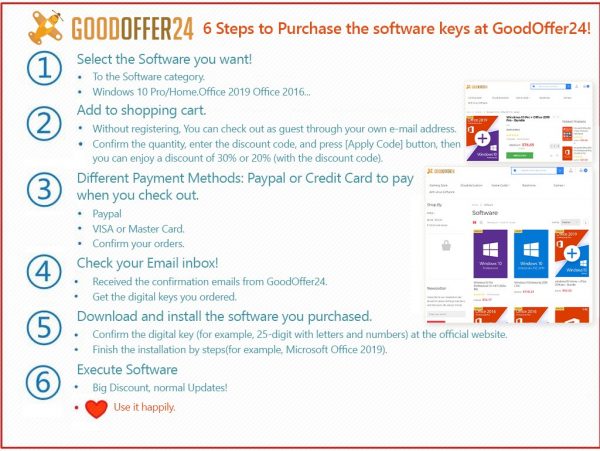 If you need more information before proceeding with your purchase, take a look at their Website, where you can find all their regular and time-limited offers, or send them an e-mail with your questions – they will be happy to help you!
Learn more at Goodoffer24 Summer promotion!
Customer Service E-mail: info@goodoffer24.com