(Auszug aus der Pressemitteilung)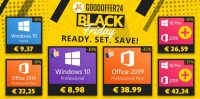 Black Friday is a huge promotional event created by major retailers in the United States, which has since become one of the largest e-commerce events in the world, leading to the Christmas shopping season.
GoodOffer24 is no stranger to these big seasonal sales and is already preparing for this year's shopping madness: From November 12th to December 1st, GoodOffer24 offers you the unique opportunity to buy the best Operating Systems, Office productivity suites and other great Microsoft software at incredibly lower prices!
So to help you make better choices, we've highlighted some of the most popular products on offer during the upcoming "Black Month". Let's take a look at the exclusive deals and discounts from GoodOffer24.
▶ To the BLACK FRIDAY DEALS!
BLACK FRIDAY SUPER SALE: Save up to 30% extra on Windows 10, Office 2016 and more – with the special platform discount!
Avoid unnecessarily long queues and save up to 30% more when upgrading your computer software! To receive your special discount, simply apply the following code "JGBF30" before Checkout. Have you ever seen prices that low?! Check it out:
BLACK FRIDAY SUPER SALE: Save even more on Office 2019 and all its bundle items – now up to 35% OFF!
On this Black Friday, there is also an additional 40% discount available, when using the "JGBF35" discount coupon for any Office 2019 products:
Why choose GoodOffer24?
GoodOffer24 is a great Online Store specialized in selling license keys for popular Microsoft Software, such as Windows 10 Pro/Home, Windows 10 Enterprise, Office 2016/2019, and more.
At GoodOffer24 you can expect the best service! Shortly after ordering, you receive an e-mail with your product keys without having to wait for days – ensuring you the fastest delivery! Furthermore, GoodOffer24 guarantees that all licenses are valid and also offer a 1-YEAR SERVICE WARRANTY, protecting you against additional costs of product replacement and maintenance.
Behind them, there is a highly experienced team that has been involved for over 10 years in the field of Software sales, as well as Video Game Codes and Console Cards – rest assured you will be in the right hands! Even better: GoodOffer24 has a 24/7 Online Customer Service team available to help all the customers!
Please don't hesitate to contact them at any time through the following e-mail address: info@goodoffer24.com – they will be happy to help you!
Available Payment Methods
In addition to Credit and Debit Cards, PayPal is also available on GoodOffer24 and usually the most recommended payment method for more secure Online purchases, giving you the flexibility to meet your own needs.
SPECIAL NOTE: Keep in mind that you will first need to download and install the required Software on your computer (through the official Microsoft website) and only then activate it with the license keys you receive from GoodOffer24.
For more information about the Black Friday Super Sale and many other offers, visit their website or send them a quick e-mail with any questions you may have. Happy shopping!