(Auszug aus der Pressemitteilung)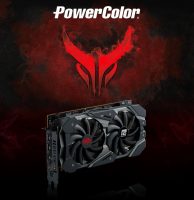 PowerColor RX 5600 XT Red Devil keeps the blood of 5700 XT Red Devil.
The outstanding dual- fan cooler design empowers 1080p gaming experience but at the same time, it doesn't compromise on the noise. RX 5600 XT Red Devil equips Dual BIOS, Back Plate, and fantastic RGB. RX 5600 XT Red Devil is definitely another beast of Navi series.
Rise of another Legend
PowerColor RX5600 XT Red Devil provides the best performance with a dual 100mm fan and 4×6Φ copper heatpipes, and it is also equipped with 8VRMs using DrMos, high-polymer Caps, and one 6-pin + one 8-pin PCI Express Connector to offer the unlimited power.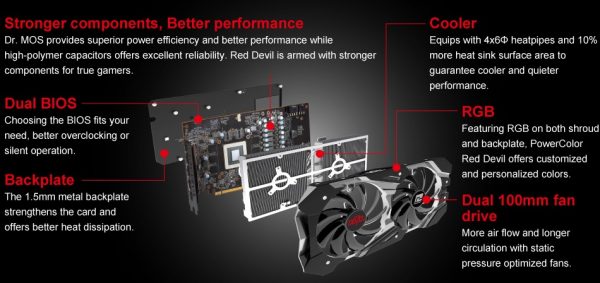 Two Ball Bearing
• 4X greater longevity
The cooling fan equips with two-ball bearings which increases 4X longevity.
Mute Fan Technology
0db –Silent gaming
Mute Fan Technology intelligently turns off the fan below 60℃, providing silent gaming during medium and low load while reducing power consumption simultaneously.
Platinum Power Kit—DrMos
‧Digital controller and Super Capacitors for improved reliability
‧Superior power efficiency
‧Significantly low power loss
‧Better thermal protection
‧8 phases PWM guarantees better overclocking and stability
Dual BIOS
Choosing the modes fits you. Silent mode ensures quiet gaming while OC mode pushes the limit of your card!
Lower temperature Better Performance
More is better for providing a powerful, but silent, gaming experience, Red Devil RX 5600 XT increases more fins on the heatsink with more surface area for better heat dissipation. The best part is it equips with 4x 6Φ heat pipes to guarantee lower temperature with supreme performance.
Vertical-aluminum-fin design
The vertical design and increased array of aluminum fins improves spreading the heat dramatically. With such massive array of fins, the copper heatpipes can collect the heat and dissipate it efficiently.
RGB
PowerColor Red Devil offers customized and personalized colors.
Backplate
– 1.5mm metal backplate is extremely tough to prevent PCB bend.
– The hollow areas helps dissipate the heat from GPU and heatsink.
Output LED
No flashlight needed when plugging in the output! LED illuminated ports will easily lead you to the outputs you are looking for.
Extreme Gaming DNA
The AMD Radeon™ RX 5600 XT graphics card is designed for the ultimate 1080p gaming experience. Turn up your settings for higher fidelity and boost gaming performance for higher frame rates with ultra-fast response times. Get the power of the highly acclaimed RDNA architecture, the heart of AMD's advanced 7nm technology process, as well as GDDR6 high-speed memory and PCI® Express 4.0 support, delivering a highly responsive, ultimate 1080p gaming experience.
Game Fidelity, Accelerated
The AMD Radeon™ RX 5600 XT graphics card powers high-fidelity gaming for immersive explosions, physics, and lighting effects. The RDNA architecture was engineered to greatly enhance features like FidelityFX, Radeon™ Image Sharpening, and Integer Display Scaling for maximum performance and beautiful gaming experiences.
Radeon™ Image Sharpening
Radeon Image Sharpening combines contrast-adaptive sharpening with GPU upscaling to deliver crisp and detailed visuals with virtually no performance impact. Now with DirectX® 9, 11, and 12 support.
Integer Display Scaling
Play classic games and relive the retro experience by scaling on-screen images from one pixel to four pixels (or more) to deliver a retro-like visual gaming experience.
Highly Responsive Gameplay
Radeon™ Boost delivers added performance and fluidity when fast motion via mouse input is detected, dynamically lowering resolution of the entire frame to allow for higher FPS with little perceived impact to quality.
Radeon™ Anti-Lag
Radeon™ Anti-Lag helps minimize the amount of time between a gamer pressing a key or moving a mouse, and the response showing up on screen. This is the ultimate feature for any gamer or esports competitor. Now with DirectX® 9, 11, 12, and Vulkan® support.
AMD Radeon FreeSync™ Technolog
Take your gaming experience to the next level with higher response times. Features like AMD FreeSync™ technology, Radeon™ Anti-Lag and Radeon™ Boost deliver stutter-free, tear-free, highly responsive gameplay.
Experience Gaming Adrenalin
The latest Radeon™ Software Adrenalin 2020 Edition introduces a completely redesigned user experience unleashing the full potential of your GPU, with day-0 drivers optimized for new game releases and a highly customizable gaming experience.