(Auszug aus der Pressemitteilung)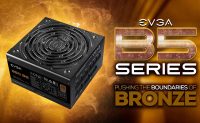 Introducing the EVGA B5 power supplies, the latest power supplies to carry on the EVGA tradition of reliability, performance, and affordability. Here are 5 Facts about the new flagship for EVGA 80 PLUS Certified Bronze power supplies.
Fully Modular, Small-size The B5 power supplies provide maximum flexibility for system builders with a fully modular design and a small chassis across all models. At 150mm length, the B5 power supplies provide solid, affordable power for all manner of system builds and cases.
Safe & Reliable Japanese Capacitors Next, the B5 power supplies feature one of the most important standards for reliability – Japanese capacitors. Featuring 100% Japanese capacitors on the 850W and 750W models, the B5 power supplies will provide a safe and reliable power for years to come. (650W B5 and 550W B5 models use a Japanese main capacitor.)
Silent, Long-lasting 135MM Fluid-Dynamic Bearing Fan with ECO MODE The ultra-quiet 135mm FDB fan becomes silent when coupled with EVGA ECO mode to turn off the fan in low to medium loads. The larger fan and carefully tuned profile creates a quieter experience than the B3 power supplies.
Efficiency and Regulation Designed for the Modern PC Featuring an LLC Resonant design + DC to DC converter, EVGA B5 power supplies are up to 89% efficient – well above 80 Plus Bronze requirements. Moreover, the B5 power supplies are designed with modern standards, including ATX V2.52, for performance and stability.
EVGA 5 year limited warranty + Full Suite of Protections

OCP – Over-Current Protection
OPP – Over-Power Protection
OTP – Over-Temperature Protection
OVP – Over-Voltage Protection
SCP – Short Circuit Protection
UVP – Under Voltage Protection
Make the EVGA B5 Power Supplies the Centerpiece of your Next System.