(Auszug aus der Pressemitteilung)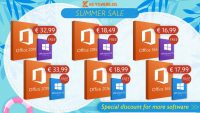 The biggest summer sale of 2020 is here! In the Keysworlds Summer Sale 2020, get access to offers never heard before. With our offers, you not only get a great discount on already discounted prices on all softwares, you can also get Windows 10 for FREE. Now have you ever seen this kind of offer before? Check out our great summer sale offers below and be sure to grab them today before they are gone forever.
Who Are We?
Keysworlds.com is an international online marketplace which sells smartphones, softwares and accessories. We provide quality products at the lowest possible costs and our buyers are from all over the world. When you purchase anything from Keysworlds, you can be assured that you are transacting with a global online marketplace offering you great deals and 100% satisfaction.
Keysworlds Summer Sale 2020 Offers
Ready for the great deals? Do not miss the below deals, we bet you are not going to find them anywhere else. Choose from our wide ways to pay online (Visa & Mastercard Credit & Debit Cards, PayPal etc.) for your order and get instant access to your purchase. Select any offer from below as per your requirements.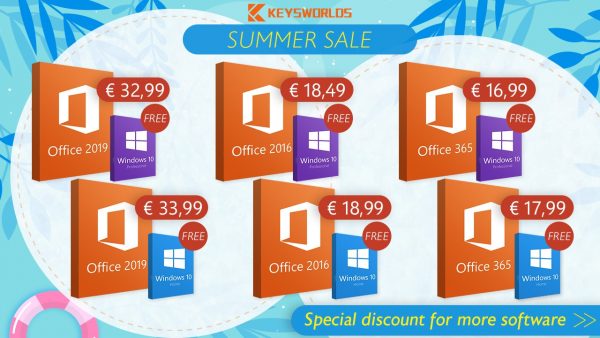 BUY 1 GET 1 FREE
This is an offer you cannot resist. In this offer, you can buy MS Office (2016/2019) or MS Office 365 Pro Plus at a huge discounted sale price and also get Windows 10 (Home/Professional) for FREE! Yes, you read that right. You get Windows 10 Home or Professional (depending upon your purchase) absolutely FREE FREE FREE!
50% Off On MS Office
Need just the MS Office? Get flat 50% off with coupon code: KWS50 on any MS Office software you would like to purchase. Check out our great deals on all MS office softwares today, we are sure you are going to love it.
38% Off On All Software
Couldn't yet find an offer for your desired software? No worries, with the great Keysworlds Summer Sale 2020, we have got you covered. Get 38% off with coupon code: KWS38 on all softwares listed for sale. Check out the deals now.
The above offers are running during Keysworlds Summer Sale 2020 only and you will not find the kind of deals we are offering anywhere else. So what are you waiting for? Order today and thank us later 🙂
Have Questions?
Need assistance before or after ordering? We're here for your help. Please email us at service@Keysworlds.com anytime and we will be glad to delight you with our outstanding customer service.