(Auszug aus der Pressemitteilung)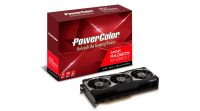 Taipei, Taiwan –December 8th, 2020 – TUL Corporation, a leading and innovative manufacturer of AMD graphic cards since 1997, today announced the fastest graphics card in its AMD Radeon™ RX 6000 Series lineup with the new PowerColor AMD Radeon™ RX 6900 XT graphics card.
The new card features 16GB of GDDR6 memory and is built upon the groundbreaking AMD RDNA™ 2 gaming architecture, designed to deliver top performance for enthusiast gamers seeking the best 4K gaming experiences with incredibly life-like visuals.
4K Gaming
The PowerColor AMD Radeon™ RX 6900 XT graphics card is designed to deliver unmatched 4K performance with no compromises to meet the demands of the most avid gamers and computer enthusiasts. It offers 80 Compute Units (CUs) with a total of 5120 stream processors, and provides a Boost Clock1 of up to 2250MHz.

AMD RDNA™ 2 & Hardware-Accelerated Raytracing
AMD RDNA™ 2 gaming architecture was designed to deliver the optimal combination of performance and power efficiency with performance and efficiency at its core, making used of It includes enhanced compute units and delivers advanced features including hardware-accelerated DirectX® Raytracing (DXR), Variable Rate Shading and more.
Radeon™ Anti-Lag and AMD FidelityFX
Gamers want highly responsive gameplay and the best visual fidelity. Radeon™ Anti-Lag2 significantly decreases input-to-display response times and offers a competitive edge in gameplay. The AMD FidelityFX3 open-source toolkit for game developers provides a collection of lighting, shadow and reflection effects that make it easier for developers to add high-quality post-process effects that make games look beautiful, while offering the optimal balance of visual fidelity and performance.
AMD FreeSync™ Technology
Gamers can take full advantage of the AMD RadeonTM RX 6900 XT graphics cards by pairing with a certified AMD FreeSync™ technology-certified display4 to enable an exceptional stutter- and tear-free gaming experience with high refresh rates, low latency, and stunning HDR.
[1] Boost Clock Frequency is the maximum frequency achievable on the GPU running a bursty workload. Boost clock achievability, frequency, and sustainability will vary based on several factors, including but not limited to: thermal conditions and variation in applications and workloads. GD-151
[2] Radeon™ Anti-Lag is compatible with DirectX 9 and DirectX 11 APIs, Windows 7 and 10. Hardware compatibility includes GCN and newer consumer dGPUs Ryzen 2000 and newer APUs, including hybrid and detachable graphics configurations. No mGPU support. GD-157
[3] For additional information, see https://www.amd.com/en/technologies/radeon-software-fidelityfx. GD-172.
[4] AMD FreeSync™ technology requires AMD Radeon™ graphics and a display that supports FreeSync technology as certified by AMD. AMD FreeSync™ Premium technology adds requirements of mandatory low framerate compensation and at least 120 Hz refresh rate at minimum FHD. AMD FreeSync™ Premium Pro technology adds requirements for the display to meet AMD FreeSync Premium Pro compliance tests. See www.amd.com/freesync for complete details. Confirm capability with your system manufacturer before purchase. GD-127