(Auszug aus der Pressemitteilung)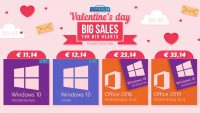 Valentine's Day falls on a Sunday this year, creating a long weekend for lovers to celebrate the day of love. And it may look a little different this year with most of us staying indoors, but nothing's stopping you from treating your significant other (or yourself) with thoughtful gifts — especially when they're discounted. Microsoft products like Windows 10 and Office are good choice for you, which will help you update your PCs and improve work efficiency.
Sending love to others is easy. Being kind to yourself can be surprisingly difficult. Celebrate another kind of love this Valentine's Day: Try Being Nice to Yourself. Buy a gift for the person you know best—yourself! Godeal24 just launched its Valentine's Day Big Sale, where you can get the cheapest Windows 10 and Office 2019 till now. They specially prepared many "Couple" products for the special promotion, so that you can save more to get these gifts. Just check it now.
Valentine's Day Big Sale – Microsoft Software up to 88% discount off!
Godeal24.com is one of the biggest and most reliable Online platforms selling Software licenses with unbeatable prices and fast e-mail delivery! For this special Valentine's Day, Godeal24 just launched its Valentine's Day Big Sale, up to 88% off full price and sale products!
Valentine's Special Offers – Buy couple, save more! Limited offers!
Half Price Offers – Buy couple, pay one! Yes, 50% off! (With Coupon Code: SGO50)
Office 2019 and 2016 – 62% OFF (With Coupon Code: SGO62)
Additional Offers – Best Price all for your work and home! Now, 55% off! (With Coupon Code: SGO55)
Shopping at Godeal24 is as easy as it gets! Soon after ordering, you receive an email with your Product keys – without having to wait for days! In case you have any questions, their Customer Service will provide you with the fast and extensive support you need. just send them an e-mail to the following address: service@godeal24.com.
How to pay using PayPal?
You can pay using PayPal by the following method:
Go to the checkout screen and continue as a guest (or make an account).
You can get the Cwalletco option by default in the "Payment Information" tab – click continue.