(Auszug aus der Pressemitteilung)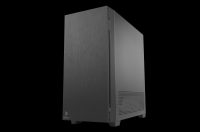 Rotterdam, Netherlands — February 5, 2021 — Antec Inc., a leading provider of high-performance computer components and accessories for the gaming, PC upgrade and Do-It-Yourself market, announces a new mid-tower case of the brand new FLUX series, the P10 FLUX. Taking thermal performance and silent computing to a new level, the P10 FLUX will soon reach store shelves and online retail outlets in Europe with a competitive MSRP of 90 Euros.
Measuring in at 477 mm x 220 mm x 486 mm (D x W x H), the DF600 FLUX offers an abundance of features that come with Antec's original F-LUX platform. F-LUX Platform adopts the design of a powerful ventilation system via the lower right-side panel which pulls cool air into the case through the lower PSU shroud and then up into the main interior. The P10 FLUX features a sound-dampening reversible swing-open front panel with an elegant brushed metallic effect. With sound-dampening foam on the front door, sides and top, P10 FLUX ensures absolute silence. With a single press of an open-or-close action, the P10 FLUX can help you reach the performance you want while keeping the balance between airflow and silence.
The case comes ready-equipped with three 120 mm ARGB fans in the front, one 120 mm reverse fan on top of the PSU chamber to pull cool air into case through the ventilation at the right-side panel and at the bottom, offering a higher level of GPU cooling performance. With the air-concentrating front filter, P10 FLUX pulls in the air from all directions and enhances cooling. A widened air passage of 11 mm between front door and filters allows to pull more air in. With the design of bars at various height, the front filter can concentrate airflow to improve thermal performance.
The P10 FLUX keeps the gear cool with room for up to 360 mm radiator in the front as well as a 120 mm radiator in the back. Furthermore, the case offers space for three convertible 3.5″ HDDs or two 2.5" SSDs, three 2.5″ SDDs as well as seven expansion slots. The front bezel features two USB 3.0 slots, Power button, HD AUDIO and fan control button. All the hubs have a dust plug, preventing them from damage.
The chassis supports ATX, M-ATX and ITX motherboards as well as graphics cards with a maximum length of 405 mm and power supplies with a maximum length of 205 mm. Moreover, the mid-tower features seven PCI-E Slots.
Last not least, magnetic dust filters this case easy to clean. The P10 FLUX is backed by Antec's Quality 2-Year Warranty. For additional product information and full technical specifications, please visit www.antec.com and follow us on our Social Media Channels.
F-LUX Platform – Antec's Original Cooling Solution
When Intel announced their latest 10th Gen CPU and AMD announced their new Ryzen 3 and 4 CPUs, they all deliver remarkable performance upgrades and better productivity, it also means the functional requirement of PC equipment needs to be taken to the next level, especially the thermal performance. To cope with the stress of enhanced heat dissipation, Antec developed a revolutionary structure for airflow, providing an improved and powerful cooling solution for the powerful system. The F-LUX Platform. FLUX stands for FLOW LUXURY. The F-LUX Platform is a highly efficient design by Antec featuring an advanced case structure for excellent airflow combined with 5 x pre-installed 120 mm fans. A core element of the design ethos is to enhance GPU cooling performance.