(Auszug aus der Pressemitteilung)
On June 24, Microsoft will unveil its latest version of Windows, Windows 11. Maybe you have great expectations for this, but based only on what we've seen in the leak, Windows 11 appears to update the user interface of Windows 10 without changing the underlying infrastructure of Windows 10 by all that much. The main changes are on "The Start menu", "Taskbar", "Widgets" and "icons", and there seems to be no change to the traditional app model. Microsoft may have updated a lot of the underpinnings of Windows and we'll have to wait until June 24 to hear about them.
Anyway, Windows 10 will still be the most commonly used and best operating system in the near future, although evidence suggests that you may be able to upgrade from Windows 10 to Windows 11 for free, and you can upgrade it to Windows 11 anytime.
Godeal24 brings you a safe and economical path to give your new PC builds genuine software and upgrade your PCs stuck on older, discontinued versions of Windows. You can buy a genuine Windows 10 key or other Microsoft products for cheap.
Special Offers – No coupon Required!
Stable and comfortable teleworking requires the support of OS system and software. For less than 8 euros, you will have a completely legal Windows 10 license and without the need to use any type of activator.

Half Price on Windows 10 home or server 2019 standard with Coupon code: SGO50
Godeal24 gives you a safe and cost-effective way to get genuine software for your new computer and upgrade your computers stuck on older, discontinued versions of Windows.

Extra 66% off for Premium Bundle Offer with Coupon code: SGO66

Want to make working and studying with your computer more comfortable? Want to keep your computer clean and safe? No problem! We offer a variety of powerful software tools, all products at hot price and up to 90% off in summer sale, official download and easy to install. It can be gotten directly without the use of coupon. So don't miss them.
Godeal24 also offers excellent customer service and the multi-payment methods is available, including Paypal and credit card. Shortly after ordering, you will receive the goods quite simply and quickly by e-mail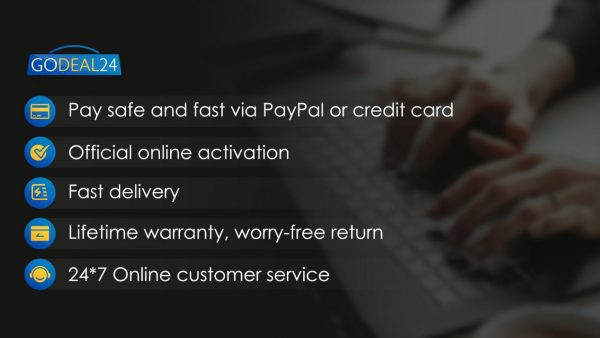 And if it comes to problems or you just have a question, the customer service is there to help you with words and deeds. You can send an email to the address: service@godeal24.com regarding to any kind of problem you met.