(Auszug aus der Pressemitteilung)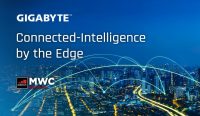 From June 28th – July 1st GIGABYTE presents a series of Edge servers dedicated to providing better solutions for 5G deployments at #MWC21.
Our Edge servers are designed with a short chassis to fit in more restricted environments of 5G while still providing strong computing performance required to support diverse applications using either x86 or Arm platforms.
As We Move Forward with 5G Together
MWC Barcelona is all about Connected Impact, and industry leaders,
C-level executives and decision makers are talking about 5G and beyond.
We have celebrated successes with providing 5G Edge Computing solutions for key clients
Our new flagship server model has been chosen by NVIDIA to be part of its Aerial Developer Kit for our exceptional industry know-how.

Let our team of server experts help you with your technology visions.
You May Be Curious
How were our Edge servers implemented in the Taipei Music Center and innovated a brand new VR 360 stadium experience?
How did our Edge servers and know-how made an impact to keep the order of a massive Pokémon GO event and had it run smoothly?
Join the show to learn the scenarios in which our Edge servers shined for our clients, and see how GIGABYTE and Edge Computing makes the Connected Impact.