(Auszug aus der Pressemitteilung)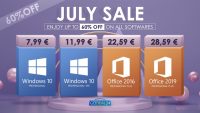 In July, Godeal24 launched a special software sale on these Windows licence and MS Office for Clearance. For those want to upgrade system or build a PC, you can now grab a copy of Windows 10 for just 7.99€, it's really a great discount compared to the Microsoft store.
Although Microsoft has launched Windows 11 last month, Windows 10 will still be the most commonly used and stable operating system in the near future. Anyway, it's a good opportunity to get a cheap and genuine Windows key, and you can upgrade it to Windows 11 at any time when Windows 11 is available.
Let's take a look at what Godeal24.com offers.
Best Office suite Apps with unbeatable prices – All for better work and study!
Windows 10 as low as 7.99€
Godeal24 is offering special price for some MS products. Getting your PC an upgrade with the best price now for only 7.99€ without the use of coupon code. And Godeal24 offers you perfect software products and customer service, which will leave you no worries after purchase.
– Special Gift Offer –
45% off on MS Windows OS
Coupon code: SGO45
Need something else? Other Windows licenses also enjoy 45% discount. Simply apply the promotional code on the shopping cart and take advantage of the price reduction.
Mega promo for bundle products – 60% Off!
Coupon code: SGO60
Maybe you need more products to meet all your needs. Godeal24 has multiple options for you. Now you can enjoy these high-efficiently packages at fair prices.
– New Products on Sale
Shopping at Godeal24 is as easy as it gets! Soon after ordering, you receive an email with your Product keys – without having to wait for days! In case you have any questions, their Customer Service will provide you with the fast and extensive support you need. just send them an e-mail to the following address: service@godeal24.com
So, hurry up to take advantage of the Microsoft Software Mid-Year Sale and get all the products you need at the best prices at Godeal24.
Products are always coming and going, so come to Godeal24 and make sure to get your haul on early.
What are you waiting for?!