(Auszug aus der Pressemitteilung)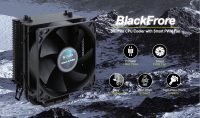 HONG KONG, 22 September 2021 – Tech innovator GELID Solutions unveils the latest high-performance CPU Cooler for AMD™ and Intel™ CPU. The BlackFrore is a product of GELID Solutions GAMER product line.
The BlackFrore comes with the advanced heatsink that carries 2 power heat pipes and features the Heatpipe Direct Contact (HDC) Technology to provide perfect thermal contact and facilitate heat transfer between CPU and the heat pipes. Additionally, the BlackFrore introduces the High-Class Black Electrophoretic Coating to guarantee top-grade surface finishing of the heatsink, create an exceptional look and feel and improve durability.
An improved 92mm fan with the Smart PWM (Pulse Width Module) Control and airflow-optimized impeller compliments the heatsink. The newly designed impeller provides efficient airflow distribution over the heatsink and the intelligent PWM Curve technique constantly keeps the fans silent but accelerates speed whenever additional cooling is needed. The high-performance GC-Pro thermal compound and the all-in-one mounting kit for multiple AMD™ CPU sockets AM2, AM2+, AM3, AM3+, AM4, FM1, FM2 and for Intel™ CPU LGA 775, 1366, 2011, 1155, 1156, 1150, 1151, 1200 sockets are all included too.
The cooler is RoHS and WEEE conform and carries a 3 year warranty.
"BlackFrore brings the features of top-notch CPU coolers to the mainstream. It delivers lightweight build, ensures super easy installation and supports the latest CPU series of AMD and Intel designed for gaming computers and business workstations", said Gebhard Scherrer, Sales Director of GELID Solutions Ltd.
The BlackFrore is available now and has a MSRP of USD 16.99 or Euro 13.99.