(Auszug aus der Pressemitteilung)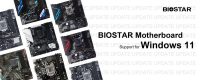 October 8th, 2021, Taipei, Taiwan – BIOSTAR, a leading manufacturer of motherboards, graphics cards, and storage devices today, announces motherboard support for windows 11.
Windows 11 is now available to download, and many people around the world are currently in a frenzy to install it on their PCs. The highly anticipated successor to the popular Windows 10 operating system brings in a wealth of benefits with its release.
With a significant overhaul to their previous Windows 10 operating system launched in 2015 that lasted for over six years, Microsoft looks to start a new chapter with Windows 11. With a stunning new interface & menu system and an easy way to browse and install apps Windows 11 looks to feature user-friendliness as a prominent upgrade. In addition to the new interface design, remote communication, strong gaming performance, and support for cross-platform applications, Microsoft has also given a big focus on critical data security and privacy operations in this version of Windows.
However, some confusion with the Trusted Platform Module (TPM) 2.0 requirement for Windows 11 has been going around making some users hesitant to update to the new operating system because of the lack of information publicly available regarding supporting motherboards.
TPM usually is a dedicated chip on a motherboard that provides hardware encryption for features like Windows Hello and BitLocker. Most motherboards that consumers get do not come with a dedicated chip, but they come with firmware that look and function like TPM in Windows.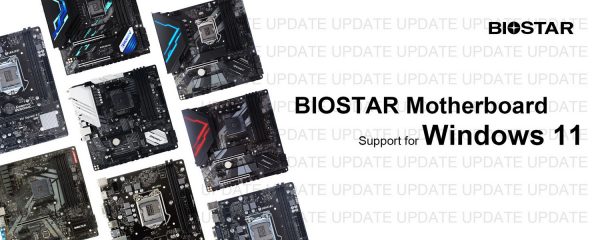 BIOSTAR proudly announces a list of their motherboards that support TPM chip version 2.0 and Secure Boot for easy, hassle-free Windows 11 installation. Consumers that own any of the following motherboards from BIOSTAR's current support upgrade list can now use the BIOS default settings to directly upgrade their operating system to Windows 11 without any changes.
BIOSTAR's current Support list for Windows 11: (For the latest news, please refer to the BIOSTAR official website)