(Auszug aus der Pressemitteilung)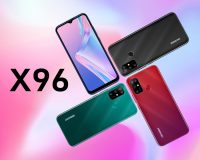 A week ago we announced the launch of the Doogee X96 budget-friendly phone, a variant of the X96 pro. Weighing only 198g and a thickness of 9.7mm, the handling of this phone is super convenient. Housed in a beautiful case with and a matte finish presents not only presents an elegant look but prevents the problem of fingerprint stains.
The complete features of X96 includes:
5400mAh massive battery
10W fast charging
6.52-inch HD+ waterdrop display
An Octa-core processor
8MP Tri Rear cameras and 5MP AI selfie camera
2GB + 32 GB Memory (Expandable up to 256GB of using a TFcard)
3.5mm audio jack
Android 11 GO OS
Between October 11th and 15th, Doogee X96 will be available for preorder on AliExpress. During that week, the starting price will be $69.99 for the first 300 pieces. The next 100 buyers will get it at $74.99 while the next 50 pieces will be sold at $79.99. Another 50 buyers will get X96 at the discounted price of $84.99 before the price changes to its original price of $95.99. Doogee will start shipping out X96 from October 15th.
The winners of the giveaway currently going will be announced on October 11th. 10 lucky winners will be selected to win 5 X96 smartphones and 5 CS1 smartwatches. If you haven't joined already, click here to join.