(Auszug aus der Pressemitteilung)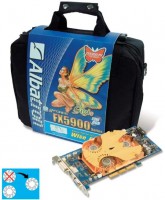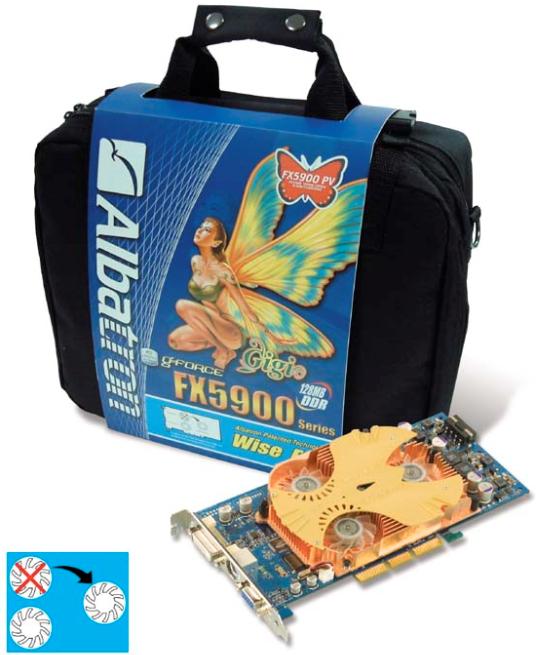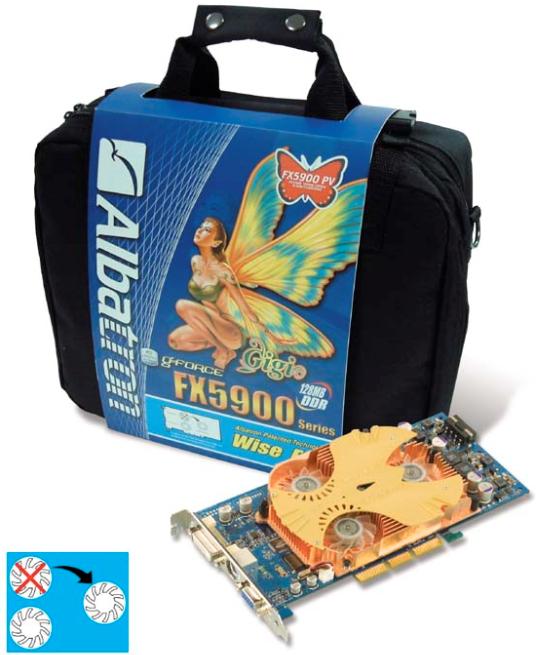 Albatron Technology Co., LTD., a manufacturer and global distributor of high technology PC components announced the release of its most recent line of VGA cards, the FX5900 series featuring nVIDIA® 's most recent and most powerful FX 5900 (NV35) based GPUs. These cards also feature a new patented multi-fan cooling system (Wise Fan) designed to provide efficient, fault-tolerant cooling. In addition, Albatron has decided on employing a new limited-edition packaging strategy, delivering the FX5900 cards in a stylish multifunctional tech-bag. The FX5900 series, which includes the FX5900UV (Ultra & VIVO) and the FX5900PV (VIVO) models, represent the most technologically advanced cards currently available within the Albatron line of VGA cards.
With today's graphics cards becoming the workhorse for high-intensity graphics processing, cooling components have had to keep pace in order cool overheated card components. Albatron Technology has announced that its FX5900 series will contain a patented triple-fan system, dubbed the "Wise Fan" with embedded "2+1 Backup®" cooling technology. This system provides active cooling covering a broader area on the board compared to conventional VGA cards. Two of the fans (primary fans) are always active while a third fan acts as a fault-tolerant backup in case any of the primary fans fail or when the RPM of one of the primary fans drops below 1800. Even with the additional fans, Albatron has managed to keep the noise levels down to 25 dBA, 10 dBA less than most fans on the market. Future plans that are currently in the works are to have the two active fans rotate between the three.
In addition to "Wise Fan", Albatron has also installed heat sinks using copper for maximum heat absorption and aluminum for optimal heat dissipation. Early test results indicate that FX5900 cards can reduce temperatures 14° C lower than most other cards in the market. Aside from just cooling an overheated card, it has been shown that heat control can improve overall performance. Albatron has cut no corners to provide the most advanced cooling solutions in order to protect against the ravages of high intensity heat, prolonging the life of the card.
The nVIDIA® FX 5900 GPUs used with the Albatron FX5900 series includes several significant improvements since its latest predecessor GPUs. A second-generation release of CineFXTM (ver 2.0) beefs up pixel and vertex shader processing promising more horsepower, smoother gameplay and new dimensions in special effects. nVIDIA® is also delivering Intellisample antialiasing with HCT (High-resolution Compression Technology) which uses highly advanced compression algorithms to pack in more texel, pixel and z value information than ever before. nVIDIA® is also unleashing its UltrashadowTM technology which accelerates shadow volumes for next-generation shadow intensive games such as Doom III. Finally, this GPU's support for OpenGL® 1.4 and Microsoft DirectX® 9.0 round out a very versatile and comprehensive features list that is going to be hard to beat.
This GPU also contains nVIDIA® 's nView technology allowing you spread your desktop over multiple monitors. Equipped with dual 400 MHz RAMDACs capable of delivering 2048×1536 (@85 MHz) resolutions, nView technology delivers added versatility without any degradation in display performance. Also included is DVCTM (Digital Vibrance Control) which gives the user superior monitor display control allowing adjustments to color intensity, color separation and image sharpness to suit unique lighting situations and individual preferences.
With the FX5900 series cards, Albatron is employing a different packaging strategy, distributing the card in a stylish multifunctional tech-bag instead of the conventional box packaging. Users will find that the tech-bag itself is quite functional. The tech-bag has straps and handles that allow it to be used as a backpack, tote-bag or softcover brief case. The bag was designed with high-quality water-resistant material with extra padding to protect notebooks and other valuable accessories. Within the tech-bag you'll find a nice arrangement of compartments and pockets. This promotional packaging will only be available in a limited edition during the initial sales period. In addition to the tech-bag, Albatron has also bundled WindDVD Creator (CD) and a new line up of games including the retail version of "Duke NuKem: Manhattan Project" and a 5 in 1 game pack CD-ROM.
With significant improvements in GPU performance, cooling strategies, memory specifications and software engine features, the FX5900 series cards represent a significant step up for the FX series and mark a new trend in VGA card evolution.