(Auszug aus der Pressemitteilung)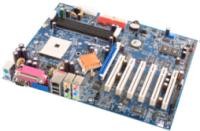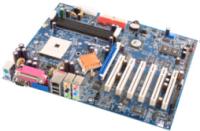 Albatron Technology, a leader in PC component technology recently announced a new mainboard, the "K8X800 Pro II" using 64-bit architecture supporting AMD's revolutionary Athlon™ 64 processor. The much-anticipated 64-bit technology will finally be able make its mark against the long-standing 32-bit standard and establish itself as the next generation technology. The K8X800 Pro II will be backward compatible with 32-bit applications at the same time setting a new precedent for future 64-bit applications. Also, the new AMD processors and VIA chipsets feature an exciting new innovation, HyperTransport™ technology, a new chip-to-chip interface design which delivers high performance, low latency data transfers and provides an FSB of 800 MHz.
The K8X800 Pro ll mainboard is based on the latest VIA K8T800 and 8237 chipsets, which are compatible with the AMD Athlon™ 64 processors. These chipsets can also support simultaneous 32-bit and 64-bit processing as well as an AGP 8X interface. VIA's HyperTransport™ implementation, dubbed "Hyper8™" technology, allows for full 16-bit/1.6 GHz CPU to Chipset connectivity, which adds to up to 6.4 GB/s bandwidth or an FSB of 800 MHz. Additionally, the memory controller has been embedded into processor which can significantly decrease data read/write latencies. In short, the K8X800 provides the fastest, most stable DDR400 interface, surpassing the performance requirements of even the latest 3D video gaming software.
In addition to performance features, Albatron has engineered a VIA Envy 24PT audio chip onto the board, which together with the bundled SPDIF bracket card, provides eight channel audio capability allowing you to enjoy professional studio quality audio without having to purchase a specialized audio card. In addition, a 3Com 1Gbit LAN chip provides 10/100/1000 Mbps LAN connectivity. Eight USB2.0 ports and two IEEE1394(FireWire®)ports allow for an adequate supply of interfaces for all of your peripheral devices. This board also supplies six PCI slots, two ATA133 channels (allows up to four IDE devices) and two Serial ATA channels (150 MB/sec transfer rates and supports Serial RAID 0,1).
The Albatron K8X800 Pro II is one of the first mainboards out of the blocks supporting the new AMD 64 processors. Together with the latest VIA chipset implementations, the K8X800 Pro II boasts all the latest component technology to mark the arrival of 64-bit architecture and to ensure that 64-bit will make a significant impact in the direction of future technology.