(Auszug aus der Pressemitteilung)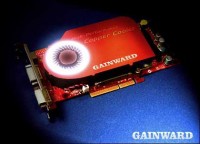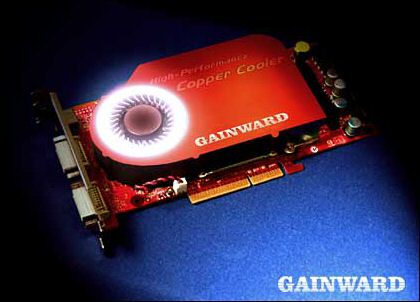 Taipei – Beijing – Hong Kong – Fremont – Munich – London – Malmö – Moscow – May 5tht, 2004 – Gainward Co., Ltd., the leading manufacturer of high performance 3D graphics and home entertainment accelerators, announces that it will be first to market with the world's most powerful 3D graphics processor board integrating NVIDIA's 16 pipeline GeForce 6800 Ultra technology on Gainward's advanced, water-cooled, High-Performance/Wide-Bandwidth hardware design and next generation driver technology targeting another 20% performance increase.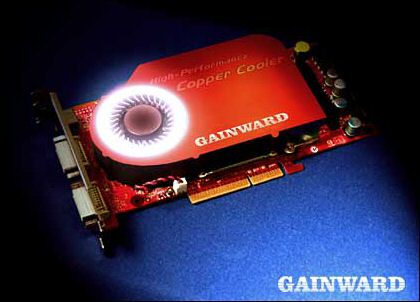 The Gainward CoolFX PowerPack! Ultra/2600 "Golden Sample" features a hand selected GeForce 6800 Ultra GPU running at 450Plus MHz core clock, 256 MB of carefully qualified 1.2 GHz DDR3, video-out, DVI, plus integrated Gainward CoolFX water cooling. The Gainward CoolFX PowerPack! Ultra/2600 "Golden Sample" is available starting middle of May 2004 through Gainward's worldwide distribution and retail network and priced at €899 incl. VAT. Gainward will also offer the Gainward PowerPack! Ultra/2600 "Golden Sample" with enhanced fan cooling also running at significantly enhanced clock settings.
"Air cooling is either inefficient, noisy, or both, while Gainward CoolFX water cooling is around 20 times more efficient and almost silent", commented Hans-Wolfram Tismer, Managing Director of Gainward Europe. "The advantages of Gainward CoolFX are increased 3D performance at 50 – 150 MHz higher clock speeds and quiet operation targeting the 3D enthusiasts as well as professionals seeking a noiseless solution for their work place."
In order to offer today's most reliable and long lasting water cooling solution Gainward has partnered with innovatek, today's leading manufacturer of liquid cooling solutions, based in Stammham, Germany.
"innovatek are manufacturing high-quality products that fit our needs extremely well", says Hans-Wolfram Tismer, Managing Director of Gainward Europe. "As innovatek have been in this business since the beginning of "retail" water cooling they have a great deal of experience and we are proud to have them as a partner."
"To meet the requirements of the leading manufacturer of high performance 3D graphics and home entertainment accelerators is a great challenge for us", says Markus Husterer, Managing Director of innovatek OS GmbH. "As pioneers of the whole H2O movement we are sure that this co-operation is another important step on the way of bringing the benefits of water cooling to every user."
Gainward CoolFX is based on a revolutionary design featuring the world's most reliable Eheim water pump with an average 10 years life span, while conventional lower cost solutions are using lower quality water fountain pumps which may not even survive the mandatory European warranty period of two years. Equipped with a performance radiator and a 120 mm low noise fan, Gainward CoolFX can be extended with the Gainward CoolPC upgrade kit to also cool down the CPU (Intel or AMD) and the North Bridge to almost room temperature. In order to avoid any leakages and water evaporation through the pipe system Gainward is using special plastic pipes and fittings to connect all components into a sealed water circulation system.
With nView Display Technology the Gainward CoolFX PowerPack! Ultra/2600 "Golden Sample" also supports two monitors simultaneously with two independent 400 MHz RAMDACs for office applications, 3D gaming and professional applications such as CAD, DTP, animation, or video editing. The maximum supported resolution for both displays is 2048 x 1536 @ 85Hz. Depending on the resolution the maximum refresh rate is up to 240 Hz. The integrated NTSC/PAL TV encoder supports resolutions up to 1024×768 without the need for panning with built-in Macrovision copy protection.
EXPERTool is Gainward's performance tuning utility that allows the user to easily adjust the engine clock and the memory clock of any Gainward product from NVIDIA's recommended default settings to even faster settings. Thanks to Gainward's proprietary, rock solid, multi-layer High-Performance/Wide-Bandwidth hardware design, Gainward offers the end user the choice to run Gainward's "Golden Sample" products at "Enhanced Performance Settings" (both, faster engine clock AND faster memory clock) which guarantee significantly improved "3D real-world performance" for even higher resolutions at 32 bit color depth.

Robust and Complete Software Support
Gainward products support all major OS and software standards with robust, perform-ance enhanced, accelerated software drivers including Microsoft Windows 2000/ ME/XP, Linux, Open GL 1.4, and DirectX 9 to deliver the best performance while assuring the best possible compatibility with current and future applications and games. Gainward's products are also backed by a free driver update support through the internet, telephone/fax/e-mail technical support and a 36 months limited warranty.