(Auszug aus der Pressemitteilung)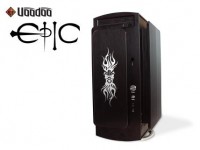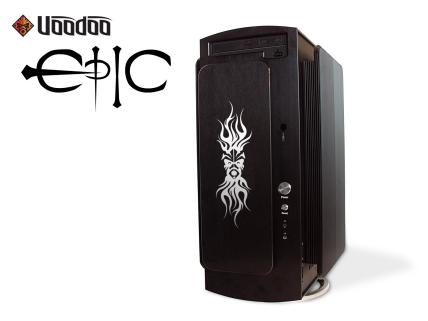 Calgary, Alberta – VoodooPC, a world leader in the design and manufacturing of high-performance personalized computer systems, today announced the launch of the EPIC, the worlds most advanced Home Theater Entertainment PC with built-in Amplifier.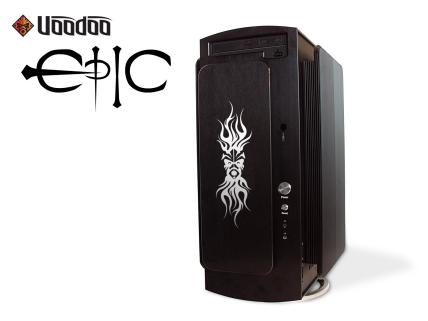 Featuring one of the most unique designs of any desktop PC, the EPIC uses the power of the Intel Pentium M mobile processor. It also operates silently as it has no fans, and it has the ability to play today's most demanding games at high resolutions with intense detail. One of the most unique features of EPIC is the fact that it includes a built-in amplifier so you can hook up any speakers to it. EPIC is truly the most unique Media Center Home Theater PC ever.
"The Voodoo EPIC is a very powerful gaming capable PC designed to operate silently in your living room as a Media Center Home Theater PC," said Rahul Sood, President & CTO, VoodooPC. "It includes a built in amplifier, and the fastest components money can buy, including the latest video cards from Nvidia and ATi. All of this sits on a rotating pedestal – rightfully so – this PC deserves to be recognized."
Voodoo EPIC offers the most unique computing experience ever. Not only can you watch TV, you can record two channels at once, view slide shows, play digital music, play videos, display progressive scan DVDs, but you can also play games the way they were meant to be played. All of this is easily hooked up to a projector, plasma TV, or LCD television with little or no effort, as well it includes a built in amplifier so you can hook it up to any home theater system or stand-alone speakers. Voodoo EPIC also supports up to 1 Terabyte of storage space using the latest hard drives by Hitachi Global Storage Systems. Future HD Ready TV Tuner options will also be made available for the EPIC as an upgrade.
VoodooPC is known for building some of the worlds finest computer systems. Voodoo EPIC is a new, industry leading Media Center PC.