(Auszug aus der Pressemitteilung)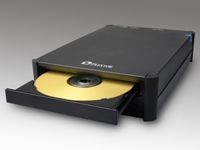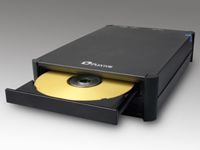 Brussels, 15th of November 2005
– Plextor today announces its new external DVD-ReWriter drive – the PX-750UF. The 16x PX-750UF is a mid-market external drive at a competitive price, however it offers extra flexibility and convenience with dual connectivity USB2.0 and IEEE 1394 FireWire, as well as including DVD-RAM capability in addition to +/- R (DL). In addition, it comes in a stylish matt black chassis.
Plextor also announces its new 16x DVD+R media which are capable of burning at market-leading speeds of up to 18x with the latest generation of 18x Plextor PX-760 series drives. [The premium PX-760 series are the World's fastest DVD-ReWriters to date and include the ATAPI/IDE PX-760A and the Serial ATA PX-760SA.] In line with Plextor's high quality and high reliability standards, the discs are manufactured for Plextor by Taiyo Yuden, one of the World's leading and best known media companies. Plextor 16x DVD+R media is available in 25x and 50x spindle packs.
Plextor PX-750UF
The PX-750UF is designed for today's PC, movie and audio enthusiasts to complement the trend for black PC cases. Following the recent successful launch of Plextor's PX-750A internal drive, the external PX-750UF offers improved flexibility to users: with multi-format compatibility (including USB2.0, FireWire and DVD-RAM), vertical positioning and improved speed, it is a compelling, cost-effective option. It comes with Buffer Underrun Proof Technology which is standard on Plextor drives and PlexTools Professional/XL. It is capable of the following DVD speeds: 8x DVD+/-R DL (8x –R DL by firmware upgrade); 16x DVD+/-R; 5x DVD-RAM Read/Write.
Availability, Pricing and Warranty
The Plextor PX-750UF will be available from the end of November 2005 at Plextor's network of dealers. The recommended retail price will be € 135 (excl. VAT& taxes). It is covered by Plextor's Fast Warranty Service (2-year warranty in the EU, Norway and Switzerland (Collect & Return); other countries 1-year carry-in). A comprehensive range of full and trial software is included from: Plextor (PlexTools Professional & PlexTools Professional XL), Cyberlink, Nero, Pinnacle and Sonic.
In addition, the Plextor 16x DVD+R media will also be available in November 2005 (25x spindle pack and 50x spindle pack).
Features and specifications