(Auszug aus der Pressemitteilung)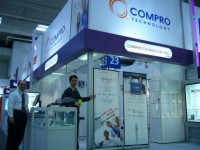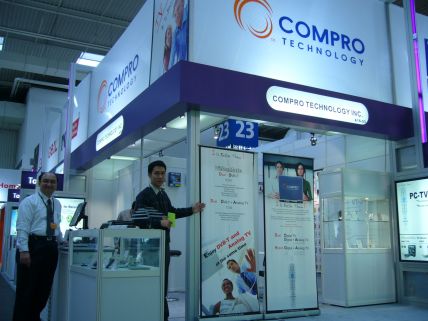 Compro Technology, a leading developer and manufacturer of PC multimedia products announces the latest analog and digital TV product series at CeBIT 2006. Multimedia applications on PCs are more and more popular with the fast growing market of digital entertainment. People need more effective ways to create their own DVD titles to share each others. Therefore Compro Technology will demonstrate all-new innovative multimedia solutions in CeBIT 2006.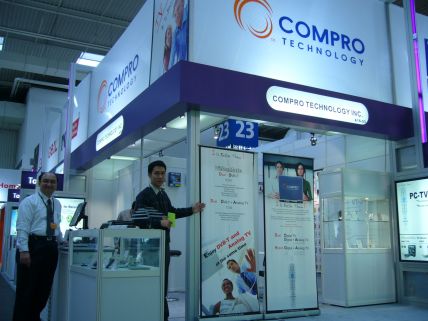 Join us at booth: Hall 23 / A16 (03), Compro will provide you a completely product line with futuristic technologies and applications.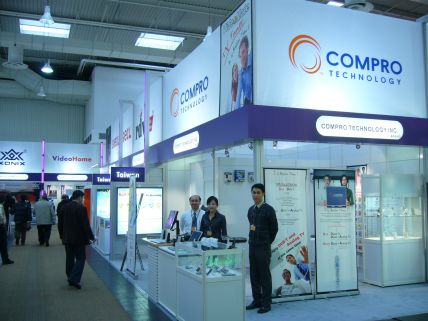 VideoMate S series
Compro VideoMate S350 and S300 are the HDTV quality DVB-S digital satellite TV tuner cards. It accompanies Philips 9-bit ADC chip, the state-of-the-art silicon digital TV tuner, Compro Picture Purifying Technology, and Power Up Technology (S350 only) to provide superior video reception on your PC. Also, it is support DiSEqC 1.2, transport stream and MPEG-2 record/playback, satellite internet service, advanced PIP/POP feature, convenient video desktop, analog video capture for MPEG-1/2/4 recording, timeshifting, channel surfing, still frame capture, digital EPG, subtitle and Teletext. It will definitely brings the most enhanced TV viewing experience to your PC.
VideoMate E series
VideoMate E700 is a dual DVB-T PCI-E TV tuner card, with the high bandwidth PCI-Express interface, which brings clear digital terrestrial TV broadcasts and the best video experience by its digital TV viewing and personal digital video recording capabilities. With bundled Compro exclusive ComproDTV 2 software, you can watch 2 to 4 digital TV show at the same time. Moreover, with Compro exclusive Power Up Scheduled Recording, it can automatically boot up your system then record your favorite shows, and ComproDTV 2 will automatically shutdown your system when recording is completed. Furthermore, you can power up and shut down the PC with the bundled ergonomic design remote control.
VideoMate V series
VideoMate V550, the high-end standalone analog TV tuner box with separation input and box stand design, you can watch analog TV shows via your PC monitor. It also built-in 3D Y/C separation and comb filter chip, gives you the crystal clear video quality. VideoMate V550 not only supports up to 1600 x 1200 resolutions and wide screen display, SAP(MTS or NICAM), Stereo, Mono selection, S-video, composite video and audio inputs, but also support component video input (Y, Pb, Pr) for Xbox, PS2 and other game consoles.
VideoMate T series new models
Compro VideoMate T700 / T750 are the dual PCI DVB-T and analog TV/FM tuner cards, which bring high quality digital terrestrial TV and universal analog TV/FM broadcasts to your PC with exclusive power up technology. Bundled exclusive ComproDTV 2 software, you can watch digital and analog TV shows at the same time. Also, flexible scheduled recording, play recorded files, timeshift live TV, channel surfing and capture still frames, make you enjoy the TV experience.
VideoMate T220 accompanied by Compro's exclusive Power Up Technology, remote controlled power on/off, with superior HDTV video quality, and VideoMate T100 will bring you free-to-air HDTV quality digital terrestrial TV reception with analog video captures with the least cost.
VideoMate U series new models
VideoMate U500, the DVB-T USB stick, a thumb size digital TV tuner box with remote control. It is easy to put into your pocket or computer bag. With the all-new ID and hardware/software design, provides high quality and more sensitive free-to-air digital terrestrial TV broadcast receiving at anytime, anywhere.
VideoMate U2700 is a full functional hybrid USB 2.0 DVB-T and analog TV tuner box, which brings digital terrestrial TV and universal analog TV broadcasts to your PC. VideoMate U3000, a full functional hybrid USB 2.0 ATSC and analog TV tuner box, which provides HDTV quality ATSC digital TV and worldwide analog TV reception. They built-in the S-Video, composite video and stereo audio capturing without external power adaptor required in their smaller than a credit card size.
Compro Exclusive Technology
Compro introduced latest VideoMate series product and devoted to hardware and software development. Compro's exclusive Power Up Scheduling let you automatically boot up your PC from the Windows Shut Down (ACPI S5), Stand by (ACPI S3), and Hibernation (ACPI S4) modes to record your favorite shows and the Compro PVR 2/ComproDTV 2 will automatically shut-down your system when recording is completed. Furthermore, Remote Power On/Off will enhance the home entertainment PC experience, users can power up and shut-down PC with the bundled ergonomic design remote control, this makes you relax and watch TV on your PC from the comfort couch without having to stay in front of your PC. Besides, Compro Picture Purifying Technology built-in advanced noise reduction and de-interlacing provides crystal clear video quality of free-to-air digital terrestrial and worldwide analog TV. All these exclusive technologies will guarantee you the best multimedia experience.
The whole-new ComproDTV 2 software bundled in Compro VideoMate series products mostly supports advanced Picture in/out Picture not only allow you to watch live TV and playback video files at the same time, but also let you open up to 4 digital TV channel windows at once. Also, you can customize channel order, my favorite channel list and customize brightness, hue, saturation, contrast, sharpness and language selection in each TV channel. Video Desktop function let you setup the live TV screen in wallpaper mode. Making your PC a professional multimedia center is no longer a dream. Furthermore, timeshifting, FM radio, EPG, Subtitle, Teletext and multiple still frame capturing and remote snapshot are mostly available in the futuristic technologies products.