(Auszug aus der Pressemitteilung)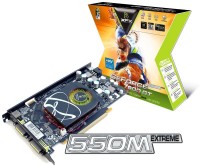 Being a brand always in search of upgrading and differentiating its products, XFX has now upgraded the entire GeForce 7900 GT series with an additional VIVO capability. Perfectly matching the needs of the [semi] professional video editor, This product is not only suitable for all heavy duty video editing, it also runs all 3D games with the ease of a knife cutting through soft butter.
But this is not all. The graphics card has gone through surgery and came out of our factories looking completely different again.
With the characteristic colouring scheme with the Black PCB, Metal bar and bracket and green DVI connectors [one is DUAL LINK supporting the resolution 2560×1600 for 30″ monitors] complemented with the unique XFX cooler design, the board belongs to the most coveted graphics products of this moment.
The result is an already great and awarded product, perfected. A graphics card with 'Power-2-the-maX' locked inside a perfect looking body, waiting to free all this power with the grace of a well trained swordsman that also has the abilities of an archer. Picture this in the breath taking X-shaped retail box and you have the ultimate graphics card designed for REAL extreme HD gaming, available NOW.
M series
With this product, XFX launches the M series. These series will give a clear positioning to the channel and consumer, immediately showing the level of overclocking. Every model…
M series line up for XFX GeForce 7900 GT VIVO:
XFX GeForce 7900 GT 550M XT
XFX GeForce 7900 GT 520M
XFX GeForce 7900 GT 470M
XFX GeForce 7900 GT 450M
Our products have the engine, the NVIDIA GPU, and it is clocked at a certain performance / clock speed. The M-series easily shows you what this is about and immediately positions it clearly to everybody. No more questions or mistakes in clocks. 550M XT is the XTreme version running at a ridiculously fast clock rate of 550 MHz.
The expected price for this beauty starts at 349 euros including VAT for the standard model [actual price depending on country and local VAT regulations]. Check locally on pricing of the 'XTreme' Edition.
You want to look good and have all the energy you need, so why shouldn't your graphics card be the same?
play hard.
HARD FACTS:


Generic specs:
TV Out [s-video]
DUAL DVI Out [DUAL LINK DVI]
Features:
Shader Model 3 support [inc. Vertex Texture fetch]
HDR [High Dynamic Range]
PureVideo
CineFX 4
Accessories:
3D Edit Video Editing Suite [Styled in XFX skin, utilizing the full power of the GPU and able to make use of real-time rendering options]
S-video cable [HDTV ready]
AI driver [Driver system checks system and board configuration. Automatic installation of the right driver based on that info. This is a 'geek'-proof system and user needs no actual technical PC-knowledge.]
Manual [English]
Quick Installation Guide [15 language]
DVI to VGA converter [2 included]