(Auszug aus der Pressemitteilung)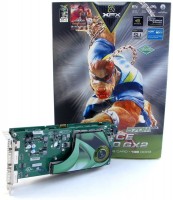 Gamers have a need for speed. Why? Faster cards equal better play. And that's why XFX, the choice of hardcore gaming enthusiasts worldwide, is ecstatic to debut its latest—and fastest—graphics card to date: GeForce® 7950 GX2.

Created to meet the unflinching demands of the professional gamer, this new nVIDIA® SLI™-ready GeForce® 7950 GX2 card combines the power of two GeForce 7950 graphics processing units (GPUs) onto a single graphics card.
What does that mean for the performance gamer? A lot. Specifically, a 512-bit memory interface; an astounding 1 GB of fast GDDR3 memory; and, most important, the smoothest, most ultra-realistic gaming experience to date, with resolutions of up to 2560×1600.
The XFX GeForce 7950 GX2 also features revolutionary SLI technology, a platform that enables users to intelligently scale graphics performance by combining multiple NVIDIA graphics solutions in a single system with an NVIDIA nForce SLI MCP. A must-have feature for performance PCI Express™ graphics, SLI dramatically scales performance on today's hottest games.
Other card features include: next-generation superscalar GPU architecture, which maximizes the gaming experience by delivering more than two times the shading power of previous generation cards; full Microsoft® DirectX™ 9.0 Shader Model 3.0 support for stunning cinematic realism; and the most complete implementation of the Shader Model 3.0 feature set, delivering the ultimate in performance for all DirectX 9 applications.
The GeForce 7950 GX2 also features the industry's fastest anti-aliasing for ultra-realistic visuals, with no jagged edges, and all at lightning-fast speeds. Astounding speed. Maximum performance. Innovative technology. Those are the features professional gamers demand. And that's what XFX has to offer starting at a competitive street-price of 599 € including VAT.