(Auszug aus der Pressemitteilung)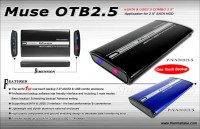 7/25/2006 – Thermaltake Technology officially announces the world's first 2.5" enclosure with the One-Touch Backup function. Utilizing the combination of eSATA and USB together, the eSATA high-speed transfer can be as high as 3Gbps. Not only is the new enclosure fast, it is also convenient – the USB2.0 interface can be used anywhere, hot-pluggable, and backwards compatible with USB1.1. The USB2.0 interface will allow you to travel around the world without having to worry about incompatibility anywhere, anytime.
This is the first time the One-Touch Backup function is implemented into a 2.5" external enclosure. Including exclusive " T-backup " software, " T-backup " has friendly interface to use. As long as the backup folder has been set up, anyone can back up the data with only one touch from a fingertip, and backup scheduling ability. Having the convenience of being able to backup the data so conveniently, the enclosure greatly improves work efficiency and data integrity: it is without a doubt, the best choice for an external enclosure.
Thermaltake Technology will never cease to revamp and renew our products' appearances. With a special aluminum brush finish and elegant lines, the rounded curves scream out style and fashion sense. The superior craftsmanship and quality will draw all kinds of envious looks when it is shown in public. As usual, Thermaltake will not compromise between function and form, ensuring the best drive cooling possible no matter where you take it.
The internal structure has been improved, durability has been increased, and the vibration reduction has once again, been increased. Not only has the hardware been improved, the chipset inside the drive has been revamped as well. Your drives will be safer than ever with improved vibration reduction while the improved chipset and two transfer status LED will ensure that not a single bit of data is lost during transfer, the unit comes with a eSATA adaptor and a high-quality travel pack.