(Auszug aus der Pressemitteilung)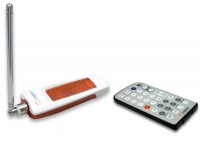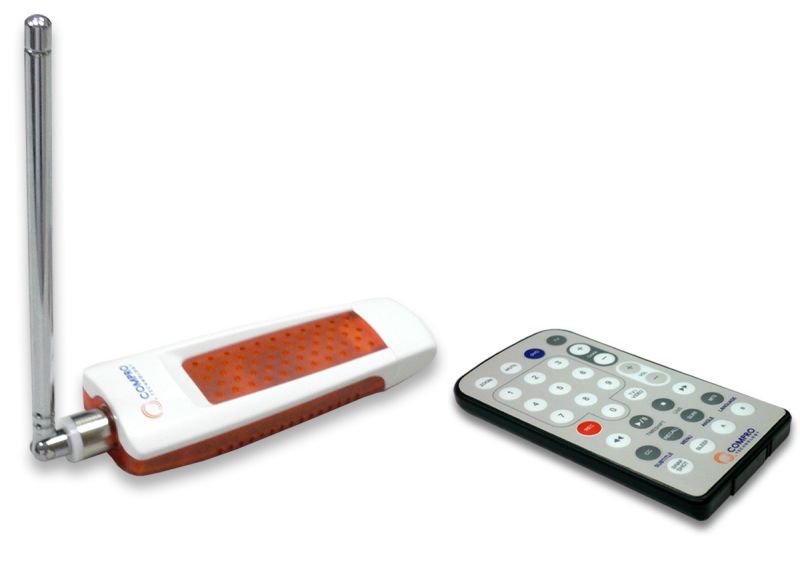 Compro Technology, a leading manufacturer of PC multimedia products, announcing it's VideoMate U500 DVB-T Stick, a thumb size digital TV tuner stick with remote control. With the high speed diversity signal receiving capacity and miniature box design, it's easy to put into your pocket or laptop bag and plug it in anywhere at anytime to receive free-to-air digital terrestrial TV broadcast. Even while you are on the move! VideoMate U500 using the Plug & Play USB 2.0 transmission and USB powered design to provide SDTV and high-definition 1080i HDTV reception on your PC. VideoMate U500 provides digital EPG, subtitle, teletext features, and up to 5.1 audio channels selection for more convenient in available area.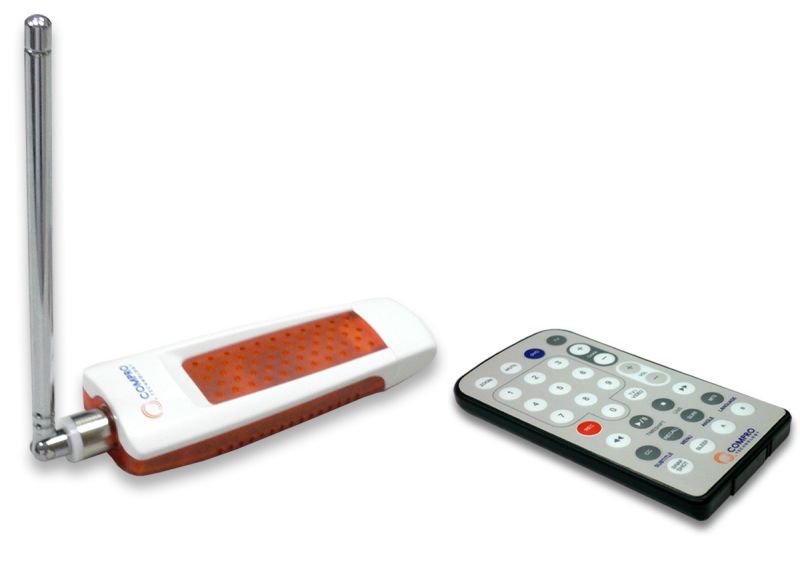 Bundled with fully functional ComproDTV 2 software, you can watch digital TV shows, set flexible scheduled recording, timeshift live TV, channel surf, play .mpg, .avi, .ts, .wmv recorded files, Straight-to-Disc DVD direct record and singly/sequentially capture still frames of your incredible TV viewing experience. Compro's new designed exclusive software supports all-new Picture in/out Picture function. It allows viewer watching live TV and playback video files at once, even you can open up to 1 main channel window, 3 sub channel windows and 1 play back file window (total 5 windows watching) simultaneously. Compro's enhanced feature for Transport Stream record/playback function let you record all the programs in the same stream then you can watch each of them when you are free. For more easy-to-use and humanistic, ComproDTV 2 software let you create and edit the customize channel order and favorite channel list to fit your TV watching habit. Video Desktop to setup the live TV screen in wallpaper mode can let you use other applications at the same time. Customizing brightness, hue, saturation, and contrast selection in each TV channel can let you always have crystal TV.
Inside the package, VideoMate U500 equips with a special flexible pipe designed USB extension cable for more easy to connect with your laptop or desktop PC. Along with the extendable mobile-type DVB-T antenna, it provides the best DVB-T broadcasting reception. VideoMate U500 comes richly bundled with ComproDVD 2 for playback DVD/VCD/CD, Ulead DVD MovieFactory 4 SE for authoring your own DVD, and Ulead PhotoExplorer 8.5 SE software for managing your multimedia files. This thumb size light weight TV stick and the credit-card sized remote control are handy for traveling purpose especially. VideoMate U500 USB 2.0 DVB-T stick unleashes the convenience of digital technology for users to enjoy the incredible digital lifestyle, undoubted best mobile TV and video performance.
Key Features
Free-to-air digital terrestrial TV reception
Thumb size USB 2.0 DVB-T Stick with credit-card size remote control
Watch digital TV on your laptop or desktop PC with high-speed USB 2.0 (USB 2.0 only)
USB bus powered, no any external power required
Special designed snake pipe USB extension cable and extendable mobile-type DVB-T antenna
Timeshift, Channel Surf and Still Frame Capture
High-quality MPEG-2 formats digital TV flexible scheduled record
Advanced PIP/POP feature can open up to 4 live TV channel windows and 1 playback recorded video file window at the same time
Video Desktop to setup the live TV screen as wallpaper mode
Customize Brightness, Hue, Saturation and Contrast selection in each TV channel
Support SDTV and 1080i HDTV (where available)
Support EPG, subtitle, and Teletext (where available)
Straight-to-Disc direct TV record to DVD discs
Support digital radio reception (not DAB type)
Support all DVB-T audio formats and up to 5.1 channels.
Autoscan in UHF/VHF band (6,7,8 MHz channels)
Support Transport Stream record and playback .mpg, .avi, .ts, .wmv recorded files
Fully functional IR remote control for TV & DVD
Microsoft BDA driver
Microsoft MCE2005 compatible