(Auszug aus der Pressemitteilung)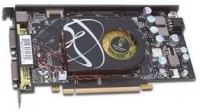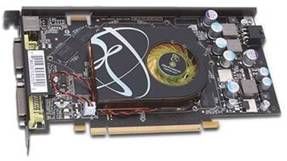 Ontario, Calif., October 18, 2006 – Gamers thrive on high velocity technology, speed and power, all of which are at the core of XFX's blazin' hot GeForce® 7900 GS graphics card. Taking visual acuity to an entirely new level, this card helps gamers keep an edge over their competition.
Previous reviews have already proven that the XFX product has the superior product and has won several awards. Because the range has already been launched and shared for reviews, we would like to quote a few of these quotes: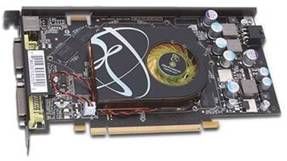 GeForce® 7900 GS series:
Guru3D: "Sheesjh … it's a friggin monster!"
Hardware-test.dk: "This is the Product of the year 2006"
Madshrimps: "XFX 7900GS "extreme edition" overclocks like hell!"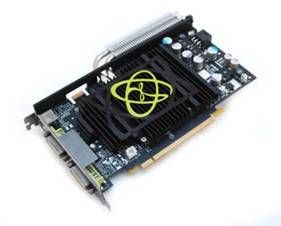 GeForce® 7950 GT series:
Custom PC: "This is the fastest passively cooled graphics card we've seen."
Guru3D: "It would be my card of choice as I just LOVE that stuff"
TweakPC: "There is no competition for XFX!"
But now… for the real [[[after-shock]]], XFX is proud to present their new juiced-up, turbocharged power-models. Be prepared and check out the product specification sheets that are attached for a full overview! Don't say we did not warn you…They will be really knocking you off your feet….
The GeForce® 7900 GS / GeForce® 7950 GT graphics cards offer game-rendering so real it might result in a revolution. However, XFX will not be held responsible for loss of friendships caused by bragging or game-time.
To learn more about the GeForce® 7900 GS or series GeForce® 7950 GT of graphics cards, go to www.xfxforce.com or directly to the product-pages:
To give you a peek to what these monsters can do, compare the 3Dmark scores of the XFX GeForce® 7900 GS series.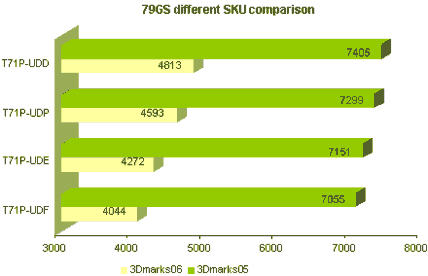 Don't let your eyes deceive you. And yes overclocked without losing warranty. Ain't life sweet?