(Auszug aus der Pressemitteilung)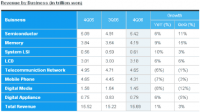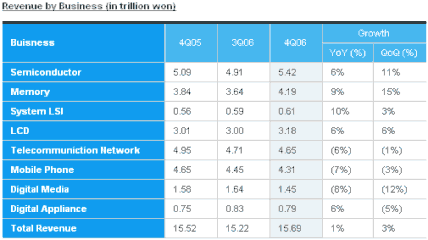 Seoul, Korea – January 12, 2007 – Samsung Electronics Co., Ltd. today announced fourth quarter revenue of 15.69 trillion won for the period ended December 31, 2006, an increase of 3% over the previous quarter. Operating income for the quarter was 2.05 trillion won, an 11% increase compared with 1.85 trillion in the previous quarter. Net income for the quarter was 2.35 trillion won, a 7% increase over the previous quarter.
"In the fourth quarter, key products powered a recovery in overall earnings despite price declines in some product categories, Samsung's differentiation strategy continues to boost profitability." said Dr. Woosik Chu, senior vice president and head of Samsung Electronics' investor-relations team.
Operating income and net income growth for the quarter were driven by the strong performances of the Semiconductor and LCD businesses. Operating profit growth was in the double digits even though the company spent 0.53 trillion won more in marketing over the previous quarter. In addition, net income rose above market expectations because of buoyant profitability from the company's overseas operations, which are reflected as equity gains.
Sales and operating income of the Semiconductor Business increased to 5.42 trillion won and 1.66 trillion won, respectively, as the price of DRAMs remained robust due to strong seasonal demand for personal computers. Strong profitability continued through the efforts to enhance the product mix, such as increasing production ratio of the DDR2. The expanded transition to 60-nanometer (nm) NAND Flash technology and Multi Level Cell technology reduced manufacturing costs and further improved profitability in spite of a decline in NAND prices in December.
The Telecommunication Network Business posted revenue of 4.65 trillion won, and operating income of 0.35 trillion won. Samsung sold 32 million phones in the fourth quarter, a record high on a quarterly basis due to strong sales of the popular Ultra Edition line. Annual unit sales reached 118 million, surpassing the business unit's annual target figure. Marketing expenditure increases for end-of-the-year sales promotions negatively impacted operating income.
In 2007, Samsung will strengthen its high-performance, premium line-up with the launch of 30 some WCDMA phones and specialty phones that focus on music, video, and messaging functions.
The LCD Business reported revenue and operating income of 3.18 trillion won and 0.31 trillion won, respectively. Revenue and operating margins in the quarter posted a 6% and a 90% increase compared with the previous quarter, respectively. Strong seasonal demand for panels for IT products, such as monitors and note PCs, and a mitigated price drop for 40-inch and larger panels khelped Samsung Electronics post solid results in the fourth quarter. The quarterly sales of LCD TV panels recorded 3 million units and the annual sales reached 11 million units. In particular, Samsung Electronics achieved sales of 5 million units in the company's differentiated 40-inch and larger panel category for a market share of 60%, further extending its leadership in the LCD TV panel market.
Digital Media Business posted revenue of 1.45 trillion won and operating loss of 150 billion won on a non-consolidated basis. However, equity gains generated from sales of digital media products at the overseas subsidiaries, greatly contributed to the overall profitability of the company on a consolidated basis. In particular, the TV business is now number 1 on both a volume and revenue basis in the overall TV, flat-panel TV and LCD TV markets worldwide. Samsung Electronics became the first company in the industry to achieve sales of over $10 billion with 2006 sales of $10.8 billion.
Due to seasonality, sales of the Digital Appliance Business dropped five percent compared to the previous quarter and posted operating loss of 0.14 trillion won.
For the outlook of the first quarter, Dr. Chu said, "Samsung Electronics anticipates challenges in key product areas in the quarter, a seasonally weak period. However, we expect stable overall performance in the first quarter with higher demand for DRAM and IT panels from the launch of Windows Vista, a sales increase during the Chinese New Year and the recovery of profits in the mobile phone business." He added, "Our key businesses, such as DRAMs, NAND flash memory chips, LCDs, mobile phones, and flat-panel TVs, will enter into a growth momentum after the first half and we expect significant growth both in revenue and profits in the second half."
Samsung Electronics earmarked 8.1trillion won in capital expenditure for 2007. While the actual amount is a slight decline from the previous year, the expenditure is relatively similar to 2006 levels considering the advanced spending of 1 trillion won at the end of 2006, foreign exchange effects, and the spending of 1.6 trillion won at Samsung Austin Semiconductor and S-LCD in 2007.