(Auszug aus der Pressemitteilung)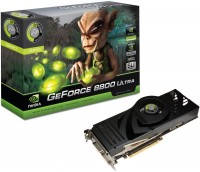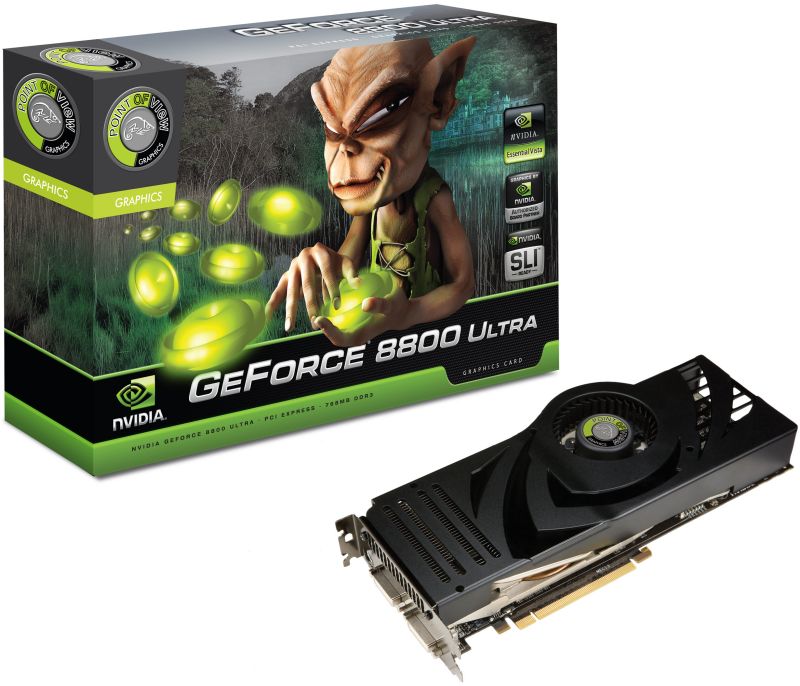 Eindhoven – 2nd May 2007 – POINT OF VIEW, well known for its range of nVidia based Graphics cards, is launching today the fastest card in the GeForce 8 line-up: the GeForce 8800 Ultra.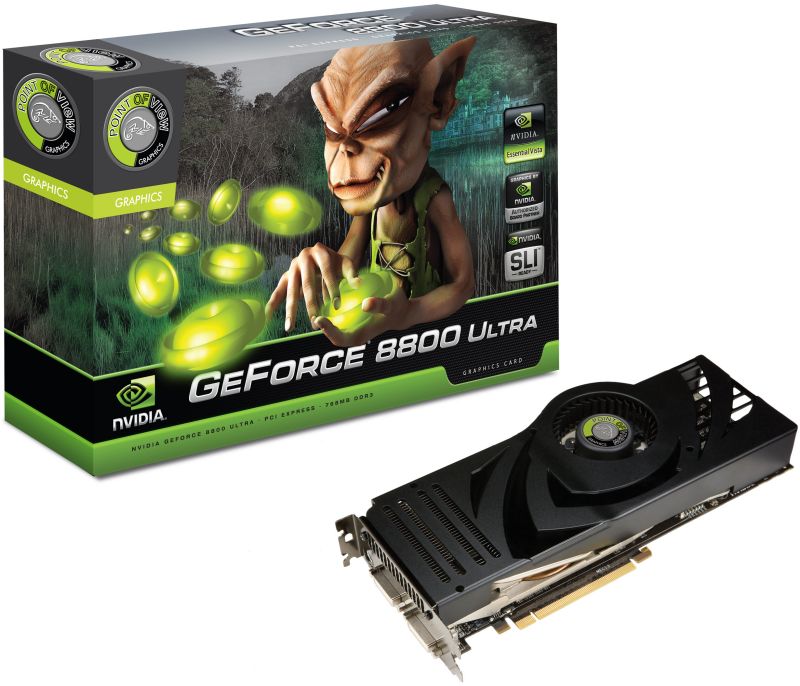 Things are changing; screens are getting bigger and gamers get more demanding about levels of detail, response time and frame rates. The GeForce 8800 Ultra is the fastest card in the world, beating even the previous NVIDIA winner, the GeForce 8800 GTX.
This massive monster stands lonely at the top, a place where the detail level is almost unbelievable and the frame rates go beyond imagination. The GeForce 8800 Ultra Core runs at 612 Mhz with cracking 0.8ns DDR3 memory backing it up on a insane speed of 2160 Mhz. This package is completed by the Shader Clock, which runs at 1500 Mhz.
Just like its little brothers and sisters from the GeForce 8 family, the 8800 Ultra has a full support for Shader Model 4.0. Compatibility for DirectX 9 and 10 and Vista, as well as support for High Definition content with the NVIDIA PureVideo HD technology. In other words; everything you'd expect from a Point of View Graphics Card, but stronger, faster and cooler.
Furthermore you'll be able to experience all the visual features of Windows Vista such as Windows sidebar, transparent windows, taskbar live preview and flip windows.
Experience a faster desktop response and higher efficiency.
Graphics Features
NVIDIA® unified architecture revolutionizes PC graphics performance through unprecedented processing power and efficiency
World's first DirectX 10 GPU delivers unparalleled levels of graphics realism and film-quality effects
NVIDIA Lumenex™ engine delivers incredible image quality, floating point accuracy, and fast frame rates
NVIDIA Quantum Effects™ technology enables a new level of physics effects to be simulated and rendered on the GPU
PureVideo HD™ technology delivers hardware acceleration, post-processing, HDCP and HDMI circuitry directly on the GPU
High performance has just been redefined and if you're not somebody who settles with less, the GeForce 8800 Ultra is the card to go with!
This card is available from today; please look at our website for a sales point in your country.