(Auszug aus der Pressemitteilung)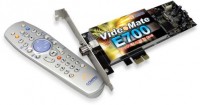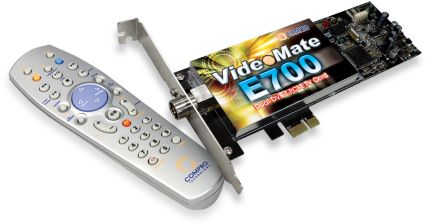 Taipei, Taiwan, 10 May, 2007 – Compro Technology, an innovative leading manufacturer and developer of PC multimedia products, launched VideoMate E700, a dual DVB-T PCI-E TV tuner card. E700 with the high bandwidth and high speed PCI-Express interface, brings clear digital terrestrial TV broadcasts to your desktop PC and lets you watch 2 main channels at the same time. It effectively turns your computer into a home entertainment center by bringing you digital TV viewing and personal digital video recording (PVR) capabilities. Moreover, it can scan channels from the dual tuners at the same time, to save half the scanning time and has been certified for Windows Vista Premium x86/x64 (32/64Bit) system. Windows Vista, the all-new Windows based system provides better easy-to-use interface with more multimedia friendly features. From now on, users can enjoy high quality TV watching and recording in Windows Vista with VideoMate E700 TV card.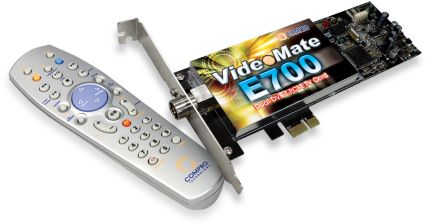 With bundled Compro's exclusive ComproDTV 3 software, you can watch free 1080i HDTV quality DVB-T TV shows on your desktop PC, set S5/S4/S3 mode flexible scheduled recording, power on/off system by remote control, play recorded files, timeshift to pause, instant replay the live TV, channel surf, Straight-to-Disc record, customize the brightness, hue, saturation, contrast, sharpness, and audio channels in each TV channel, and capture single/sequentially still frames with remote control, keyboard, and mouse. To extend your TV experience with this handy software, the advanced Picture in/out Picture not only allows you to watch live TV and playback 1 video file, but also lets you open up to 2 main channels, 3 sub channel windows and playback 1 recorded video file at once, that means you can watch up to 6 different video windows at the same monitor; customize channel order and set your 'my favorite channel list' for more convenience; the Video Desktop can set up the live TV screen in wallpaper mode and let you use other applications simultaneously.
For the best usability, VideoMate E700 is also accompanied by ComproDVD 2 for DVD, VCD titles playback, CD and MP3 music listening; Ulead PhotoExplorer 8.5 SE software for managing multimedia files; Ulead DVD MovieFactory 4 SE for authoring DVD. With the ergonomics remote control and powerful features, VideoMate E700 TV card is undoubtedly your best high-quality digital TV choice.
VideoMate E700 Key Features
Dual DVB-T digital terrestrial TV reception
Scan channels from the dual DVB-T tuners at the same time, to save half the scanning time
High bandwidth and speed PCI-Express x 1 interface for better performance
Watch 2 main digital TV channels at the same time
Compro exclusive S5/S4/S3 mode Power Up Scheduled Recording
Convenient Remote Controlled Power On/Off
Support SDTV and 1080i HDTV (where available)
Timeshift to pause and instant replay of live TV
Advanced PIP/POP feature can open up to 2 main channels, 3 sub channel windows and also playback 1 recorded video file at the same time
Video Desktop can setup the live TV screen as wallpaper
Customize channel order and favorite channel list
Customize the Brightness, Hue, Saturation, Contrast, Sharpness, and audio channels in each TV channel
Capture single and sequentially still frames and remote snapshots
Straight-to-Disc recording digital TV to DVD discs
Support High-quality MPEG-2 format recording
Support Transport Stream recording and playback
Digital TV supports EPG, subtitle, & Teletext (where available, does not support MHEG-5 in UK)
Fully functional IR remote for TV and DVD
Microsoft MCE2005 and media center feature support
Certified for Windows Vista 32/64Bit