(Auszug aus der Pressemitteilung)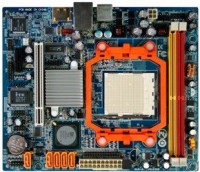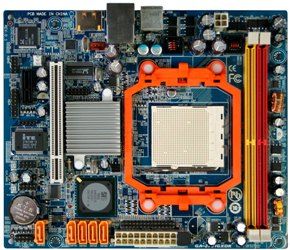 Churchill, World's 1st Home Server Mainboard in Mini DTX
Co-developed by SiS, AMD, and Gigabyte
(Excerpt from press release)
Computex Taipei, June 6th, 2007 – SiS today unveiled the world's first reference board in AMD mini DTX form factor for home server named "Churchill".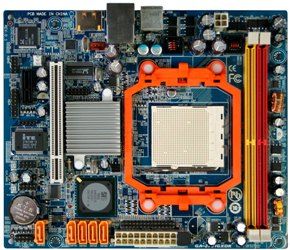 The Churchill is successfully co-developed by SiS, AMD, and Gigabyte. It implements SiS's high performance SiS761GX/SiS966 chipsets and AMD socket AM2 CPU to power the system. To provide a rich selection of multimedia applications, which is the most attractive benefit to home users, the Churchill adopts the SiS761GX/SiS966 chipset to seamlessly support various digital devices.
The SiS761GX Northbridge chipset supports AMD Athlon™ 64/ 64FX/ Opteron™/ Sempron™. It is SiS's latest chipset for embedded systems. It is designed to reduce power consumption of the system. Therefore, low power consumption is one of the most unique features of the SiS761GX. The SiS761GX is integrated with the Mirage™ 1 graphics engine to optimize the multimedia performance of the system. With the integrated Mirage™ 1 graphics, the image quality of the home server platform will be intensively lifted up. Home users, therefore, can enjoy the ultimate high performance of video playback, games, movies, and all other multimedia devices.
The SiS966 Southbridge is combined with the SiS761GX Northbridge to support 4 PATA ports, 4 SATA II ports, and RAID 0, 1, 0+1, JBOD, 5. Also, the SiS966 chipset integrates the Gigabit Ethernet MAC Controller with the standard RGMII/MII interface and two PCI express x1 ports. By supporting a wide range of applications, the SiS966 chipset enables the home users to enjoy real digital life more easily and smoothly through the home server.
The Churchill is the world's first home server system which is compliant with Microsoft's Windows® Home Server logo requirements. It is designed to be light-weighted, compact and flexible with everything packed into a 10" (H) x 7" (W) x 10" (D) chassis. Home users can access their data anywhere in their house through wireless network. It provides huge flexibility, convenience, and efficiency to home users.
"SiS, as a close partner with AMD and Gigabyte, is honored to have this opportunity of co-developing the home server platform. Through the announcement of the platform, SiS shows its developing ability and the well-accepted product performance again" said Daniel Chen, CEO and President of SiS.