(Auszug aus der Pressemitteilung)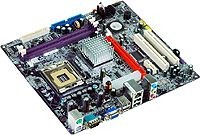 SiS671-based ECS 671T-M Motherboard to Enter Mass Production
Target at the mainstream market
(Excerpt from press release)
July 24th, 2007, Taipei – SiS today announced that the SiS671-based motherboard from ECS named 671T-M officially enters mass production process. The ECS 671T-M motherboard is positioned as a best-value solution for mainstream market.
The ECS 671T-M motherboard is designed to draw attention of potential customers in the mainstream market. With the powerful SiS671 chipset, which is compatible for Windows Vista™, the ECS 671T-M is able to optimize the system performance. The SiS671 chipset supports Intel® Core™ 2 Duo/ Pentium® D/ Pentium® 4/ Celeron® D processors, and DDR2-667/533 memory with memory size up to 4GB. With the SiS's proprietary HyperStreaming™ technology, the SiS671 is able to optimize the performance of the entire computer system. It smartly manages the data streaming to flow effortlessly between Northbridge and Southbridge, from peripherals to core logic chipsets, to front side bus, to memory and to graphic interface. The Mirage™3 graphics engine is integrated in the SiS671 chipset to support 2D and 3D playback. It smoothes the image quality of the system when playing games or watching DVDs. Moreover, the SiS671 chipset provides one PCI Express x16 slot which allows up to 4GB/s of bandwidth for each direction. Gamers are allowed to tune up the graphics performance with an add-on card when it's needed.
The SiS968 Southbridge chipset is paired with the SiS671 to strengthen the ECS 671T-M motherboard. It supports PCI Express x1 interface, and provides two high-speed Serial ATA connectors to speed up the data transmission of hard disk drive and DVD player. With the four USB2.0 ports, the SiS968 allows multiple connections of electronic devices. In addition, it supports High Definition Audio to deliver ultimate sound effects. With built-in 10/100Mbps Ethernet controller, it fulfills user's need for Internet usage.
"With official certification for Windows® Vista™, the SiS671 is promised to optimize the overall performance of ECS 671T-M motherboard. We are glad to see the adoption of SiS671 in ECS 671T-M motherboard and foresee the forthcoming success of such a valuable product." said Daniel Chen, CEO and President of SiS.
ECS 671T-M with the SiS671/SiS968 chipset