(Auszug aus der Pressemitteilung)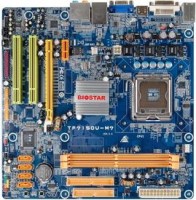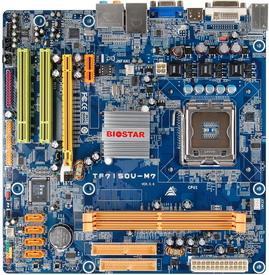 Sep-2007, Taipei Taiwan – BIOSTAR Microtech Int'l Corp., a professional manufacturer of motherboards has released TF7150U-M7 – the best on-board graphics for Intel platform ever. BIOSTAR T-Series TF7150U-M7 supports a full range of current Intel CPUs, including upcoming 45nm series.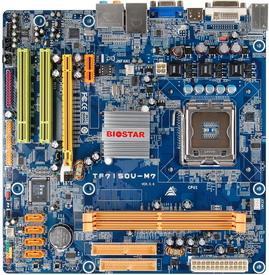 BIOSTAR TF7150U-M7 is created to support CPUs with 1333MHz FSB, giving you the flexibility to build PCs with today and future's CPUs. TF7150U-M7 is based on NVIDIA® GeForce7150 GPU, which supports DirectX® 9.0 and Shader Model® 3.0 and offers shared memory size up to 512MB. TF7150U-M7 is one of the greatest multimedia motherboards to have three video ports onboard, HDMI, DVI and D-Sub.
Benefits and Features of TF7150U-M7
The GeForce experience is more affordable than ever with GeForce 7 Series mainboard GPUs, now for Intel based PCs. With support for a full range of Intel CPUs (from Core 2 Quad to Celeron), 1333MHz FSB, DDR2 800MHz memory and integrated HDMI, DVI and D-Sub ports, Biostar T-Series TF7150U-M7 motherboard GPU delivers premium graphics experience for multi-media PCs.
Integrated HDMI and DVI with HDCP
On-board HDMI and DVI connectors are designed to meet the output protection management (HDCP) and security specification of Blu-ray and HD DVD Formats, allowing the playback of encrypted movie content on PCs when connected to HDCP-capable display
Integrated graphics GeForce 7150
On-board graphics offers top-notch compatibility and performance for all DirectX® 9.0 applications, including Shader Model® 3.0 support. With up to 512MB shared memory user can expect real premium graphic experience.
Microsoft® Windows Vista Premium Capable
TF7150U-M7 is ready for Microsoft® Windows Vista™ and the top graphics experience "Aero" on Windows Vista™ is more affordable than ever with onboard GeForce7150 GPU.
NVIDIA RAID and MediaShield™ Technology
Provide a simple point and click wizard-based interface for creating and managing multi-disk storage configuration. Allows multi-disk designs to be set up for maximum performance (RAID 0), for data protection (RAID 1), or for combination of both performance and protection (RAID 0+1 and RAID 5). Also allows RAID volumes to be converted from one configuration to another with single operation. Uniquely allows users to assign an extra disk to any RAID volume so that should a disk failure occur, TF7150U-M7 will automatically remove the failed disk and replace it with the spare.
High Definition Audio (HAD)
High Definition Audio brings consumer electronics quality sound to the PC delivering high quality sound from multiple channels. Using HAD, system can deliver 192kHz/32-bit quality or eight channels, supporting new audio formats that makes TF7150U-M7 to be closer your real life.
NVIDIA® CineFX 3.0 Engine
Powers the next generation of cinematic realism. Full support for Microsoft® DirectX® 9shader Model 3.0 enables stunning and complex special effects. Next-generation shader architecture delivers faster and smoother gameplay.
NVIDIA® nView™ Multi-Display Technology
Advanced technology provides the ultimate in viewing flexibility and control for multiple monitors.
OpenGL® 1.5 Optimizations and support
Top-notch compatibility and performance for all OpenGL applications
Specification of TF7150U-M7 and TF7100P-M7