(Auszug aus der Pressemitteilung)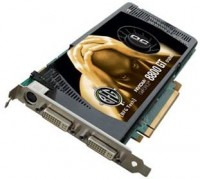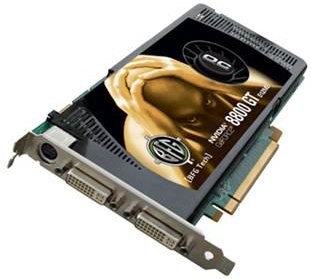 Lake Forest, IL – (October 29, 2007) – BFG Technologies®, Inc., the leading North American and European NVIDIA supplier of advanced 3D graphics cards, motherboards, power supplies and other PC enthusiast products, announced today the BFG NVIDIA® GeForce® 8800 GT OC™ 512MB PCI Express™ 2.0 graphics card for a suggested retail price of $299 USD.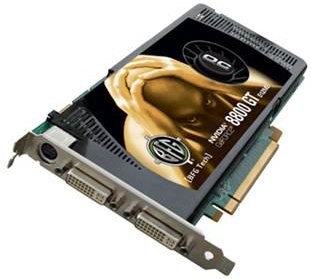 "In the next 30 days some of the most highly anticipated titles that the PC gaming market has seen in the last 2 years will be released" said Dean Brady, Sr. Director of marketing at BFG Technologies. "With our new BFG NVIDIA GeForce 8800 GT OC 512MB graphics card, users will have the power to drive these games at amazing frame rates at a price that anyone can afford."
8800 performance, single slot, under $300USD
Everyone knows that the BFG 8800 series is the fastest product line on the planet when it comes to high-definition gaming. Now for less than $300USD, everyone can have blistering 8800 performance with the new BFG NVIDIA GeForce 8800 GT OC 512MB graphics card.
Support for DirectX® 10, HDCP & PCI Express 2.0
The BFG NVIDIA GeForce 8800 GT OC 512MB isn't light on features. With full DirectX 10 support in Microsoft® Windows Vista™, HDCP capability for watching high definition video on your PC and PCI Express 2.0 compatibility, it's ready for tomorrow's next generation games!
Features include:
Full Microsoft DirectX 10 Support: World's first DirectX 10 GPU with full Shader Model 4.0 support delivers unparalleled levels of graphics realism and film-quality effects.
Built for Microsoft® Windows Vista™: NVIDIA's fourth-generation GPU architecture built for Windows Vista gives users the best possible experience with the Windows Aero 3D graphical user interface.
PCI Express 2.0 Support: Designed to run perfectly with the new PCI Express 2.0 bus architecture, offering a future-proofing bridge to tomorrow's most bandwidth-hungry games and 3D. PCI Express 2.0 products are fully backwards compatible with existing PCI Express motherboards for the broadest support
OpenGL® 2.0 Optimizations and Support: Ensures top-notch compatibility and performance for OpenGL applications.
NVIDIA® PureVideo™ HD Technology2: The combination of high-definition video decode acceleration and post-processing that delivers unprecedented picture clarity, smooth video, accurate color, and precise image scaling for movies and video.
NVIDIA nView Multi-Display Technology: Advanced technology provides the ultimate viewing flexibility and control for multiple monitors.
NVIDIA ForceWare Unified Driver Architecture (UDA): Delivers a proven record of compatibility, reliability, and stability with the widest range of games and applications.
The BFG NVIDIA GeForce 8800 GT OC 512MB will be available at leading retail and etail outlets throughout North America and Europe.