(Auszug aus der Pressemitteilung)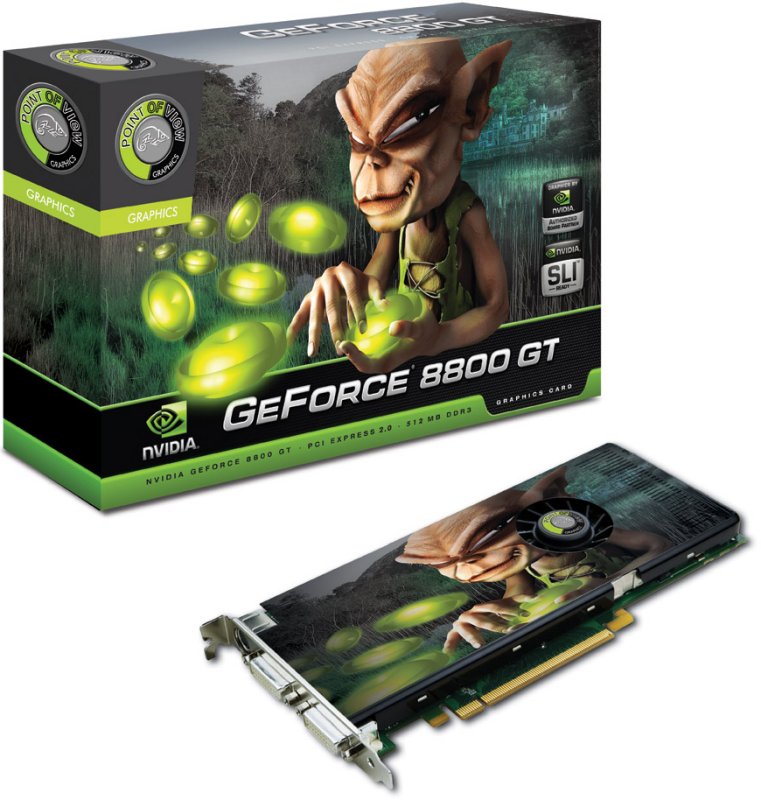 EINDHOVEN — 29th October 2007 – POINT OF VIEW, well known for its range of nVidia based Graphics cards, is launching today the newest card in the GeForce 8 line-up: the GEFORCE 8800 GT.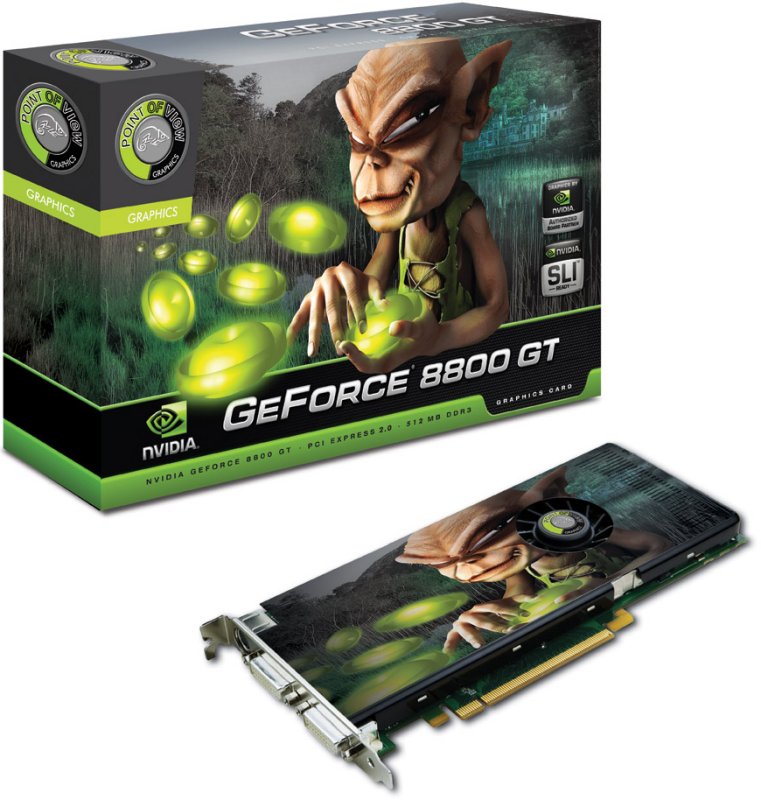 This single-slotted monster is the most balanced card ever with a perfect gaming performance, superb HD movies playback and last but not least, a perfect price. In other words; everything you'd expect from a Point of View Graphics Card, but stronger, faster and cooler.
The 256 bit memory bus is fuelling 512 MB of raging 1800Mhz DDR3 memory while the 112 stream processors will blast high-definition effects on mad speeds onto your screen. The GPU core itself runs on 600 Mhz.
Just like its little brothers and sisters from the GeForce 8 family, the 8800 GT has a full support for:
Shader model 4.0
Microsoft DirectX 9 and 10
All efficiency improving functions of Vista such as Windows Sidebar
High Definition content with the NVIDIA PureVideo HD technology.
The HD decoding chip received also an upgrade; pushing down the CPU load to an absolute minimum.
GeForce 8 Features
NVIDIA® unified architecture revolutionizes PC graphics performance through unprecedented processing power and efficiency
World's first DirectX 10 GPU delivers unparalleled levels of graphics realism and film-quality effects
NVIDIA Lumenex™ engine delivers incredible image quality, floating point accuracy, and fast frame rates
NVIDIA Quantum Effects™ technology enables a new level of physics effects to be simulated and rendered on the GPU
PureVideo HD™ technology delivers hardware acceleration, post-processing, HDCP and HDMI circuitry directly on the GPU
If you're looking for the strongest all-rounder of this moment, the GeForce 8800 GT is definitely the card to go with! This card is available from today; please look at our website for a sales point in your country.
This card will also be available with a great game bundle
This time Point of View will be bundling the latest game in the Settlers franchise. This highly addictive game developed by Blue Byte and published by Ubisoft will guaranteed give you hours and hours of playtime with your fresh graphics card.
Ask you reseller for this special edition !!